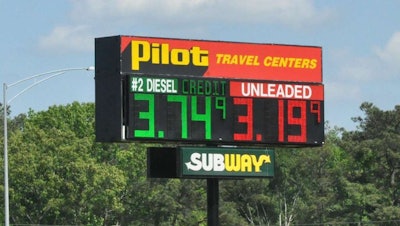 Janet M. Welch and Michael Scott Fenwick, both Pilot Flying J employees, have pleaded guilty to one count each of conspiracy to commit mail fraud, according to court documents released this week.
Both entered their pleas Monday, and both work in sales at the truck stop chain. Pilot's headquarters were raided in April over federal allegations that the company had been deceptively and fraudulently withholding owed fuel rebates from fleet customers.
Fenwick has been a regional sales manager with Pilot since 2008, and, according to his plea agreement, he would instruct account representative Ashley Judd (who's already pleaded guilty to fraud charges) to reduce the amounts of fuel rebate checks owed to customers.
Welch has been a senior regional account representative in Pilot's direct sales division since 2008 and said in her plea agreement she had been encouraged "and generally instructed by" others at the company to participate in the rebate withholding scheme.
Both her charges and Fenwick's stem from the use of the U.S. mail system to mail fraudulently reduced rebate checks.
Welch says in her plea agreement — corroborating information in an April 18-released affidavit from the FBI — that the company held sales training meetings in November of 2012 to instruct Pilot salespeople how to defraud carriers out of fuel rebates.
Fenwick also attended the meetings and instructed other Pilot salespeople on what to do if a customer suspected them of reducing the owed fuel rebate, telling them to blame it on inside sales staff or a computer software error
The court documents do not say what the terms of either Welch's or Fenwick's sentencing will be, but they do say both have agreed to cooperate with enforcement when requested and to not protect others involved in the case. They've also agreed to testify at any trial related to the case when called upon and furnish evidence when asked.
Click here to read Welch's plea agreement.
Click here to read Fenwick's.
Pilot reached a settlement earlier this month with about a dozen class-action lawsuits that had been filed against it since April. The company agreed to pay each member of the class what was owed, along with 6 percent interest.