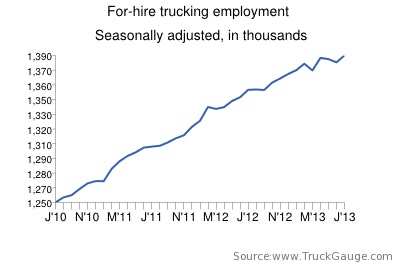 After May and June both produced net job losses in the for-hire trucking industry, 6,300 net payroll jobs were added in July, according to preliminary numbers reported by the U.S. Bureau of Labor Statistics.
Also, May's 3,500-job reduction was downwardly revised to just 3,000 job cuts in the month.
Trucking employment now totals 1.3878 million payroll jobs — up 153,800 (12.5 percent) since March 2010's bottom. It's still, however, 65,600 (4.5 percent) lower than January 2007's peak.
Total unemployment for the entire U.S. economy increased by 162,000 jobs. That number is weaker than economists had predicted and is the lowest month-over-month increase since March.
The unemployment rate, however, did drop to 7.4 percent — the lowest rate since Dec. 2008.
Trucking's payroll employment numbers reflect the for-hire industry only, and do not include numbers of other trucking-related jobs, like driving for a private fleet. It also only reflects payroll jobs, not the actual number of jobs hired in the month.