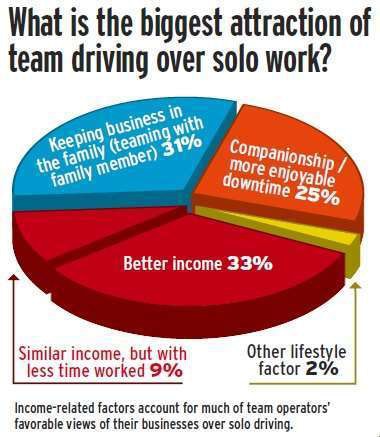 There's a reason so many young and ambitious company drivers and owner-operators tend to gravitate toward team driving, says Rick Duke. He's a former team driver who's now a solo owner-operator of a 2013 Kenworth T680 in a lease-purchase arrangement with Swift Transportation.
"I think it's just the drive, the motivation" in excess of what is typical for older people, Duke says. "You want to succeed quickly" – and teaming is one way to do just that.
In the right niche, of course, and affiliated with the right fleet.
Duke estimates his prior team arrangement with a good friend based around St. Paul, Minn., enabled him to increase his take-home pay by as much as "10 percent, maybe 20 percent on a good week," he says. "Running team as an owner-operator was where the money was really good."
Jeremy Campbell, a Maryland-based company driver now with small fleet Sabatino Trucking, recently ended a team stint on a dedicated account with J.B. Hunt hauling mushrooms from Pennsylvania to the Midwest and back on a weekly turn. Paid mileage on the company-driver job and paired with another Hunt operator, Campbell says teaming allowed simply more mileage than otherwise would be possible.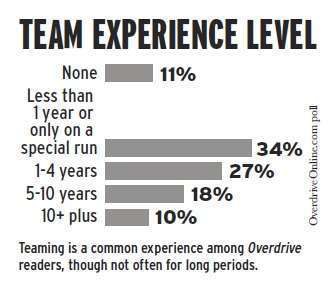 Operators also earned more stop pay, given the speed at which they were able to unload as a team on their multiple-stop outbound loads. The team partner "makes it easier to keep pushing through" on a live unload "when you're getting tired," Campbell says.
On Campbell's team runs, he and his partner were getting 56 cents a mile to the truck, split equally, plus accessorials that added up on the multiple-stop loads they typically hauled, a common way of approaching pay to teams either driving for or leased to a larger carrier – pay goes to the truck and splits between the drivers.
Whereas the most Campbell ever had made driving solo was about $68,000 a year before taxes, he was looking at almost $93,000 in the dedicated team – had it lasted.
Teaming also is more attractive to empty-nesters adopting second careers and/or bringing family on after a solo driving career. Such has been the case for countless husband-wife teams now in expedited and other segments.
Load One-leased owner-operator Tom Evans' 13-year expediting history wouldn't have been possible without Tina's ability to join him when their children were well into their teens and being home alone for extended periods was viable. Keeping business in the family was the second most common answer – following better income – in a poll of team operators at OverdriveOnline.com probing the advantages of teaming. Father-son and sibling-based teams also are common.
Improved lifestyle factors and companionship on the road can be a benefit of such family arrangements, but the simple reality of team work dictates the need for a driving partner you can trust with your life, whether related to you or not, and especially when one partner is sleeping.
"I never had issues sleeping when Kris was driving," says Duke of his time spent teaming with his best friend. "I already trusted him with my life."
"Some guys just can't sleep in a moving truck," says Kent Victorian, partner of an Alabama-based owner-operator leased to expediter Tri State. "It's an acquired thing, for sure."
Good team partners learn to drive softly, says Victorian, who tells the story of a previous team arrangement. "I was trying to sleep, and I noticed every time he came up on somebody, I found myself hanging onto the bed. After a couple days of this, I said, 'Let's talk about coming to a smooth stop.' "
Jon and Miriam Brown, team owner-operators leased to Landstar, say the elimination of the sleeper split put a damper on their on-highway sleep habits. The elimination ignored, says John, the reality of rest on the road. A five-on-five-off sleep-drive schedule "worked great for us. When the rules banned the split and we went to a 10-hour schedule, a lot of us teams didn't like that. To think somebody can soundly sleep 10 hours in a moving vehicle is unrealistic. The nice thing about the split was, depending on the kind of day you're having, if you woke up and you weren't feeling the best, or it was a day you'd worked hard the previous day, you could simply adjust the split. You had options."
Even "after almost 15 years," adds Miriam, "there's nothing like being parked for sleeping."
If you're not in a position to bring on a family member, says Victorian and others, finding the right partner can make or break a team business. "I have been with drivers that I didn't have good common interests with," he says, which can make for a dreary time on the long road.
The other side of the coin is that a family member might not work out because of the closeness of the personal relationship. Not all marriages have a dynamic that enables a team arrangement to work well.
When it does, a productive or wisely choosy team can make their time pay with the right carrier. "Because there aren't as many teams out there as solo guys, there's more freight available" for better rates, often on quick-turn dedicated operations like what Duke had teaming while leased to Swift. He and his driving partner could put down as much as 7,400 miles a week on a dedicated Con-Way subcontracted account.
"We both had our hazmat licenses also, which made us even more valuable," Duke says. "A lot of these companies are trying to get the freight moved so quickly, team freight has increased for all of us."
The Teamwork series of team profiles:
**Chris Litzinger and Henry Kuperus, leased to Minnesota-based Brenny Transportation
**Jon and Miriam Brown, leased to Landstar
**Martin and Carolina Hill, leased to CRST Van Expedited
**Tom and Tina Evans, leased to Load One