Find Part 1 in this feature, about ground lost in recent years on rates in military freight, via this link.
Many operators will tell you that if the money is good anywhere in military freight, it's in high-security arms, ammunition and explosives (AA&E) or high-security oversize hauling.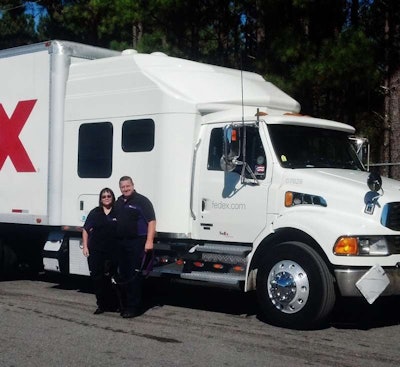 Michigan-based owner-operators Andy and Myrian Johnson (pictured, right) took their 2006 Sterling straight expediter, sporting a 22-foot box, into FedEx Custom Critical's dedicated DOD operation about a year and a half ago.
"It's not always the best paying," Andy says, "but since we're on a dedicated team, we don't have to wait for the beep anymore. We know well ahead of time what we're doing."
Which generally keeps them moving – and profitable. Rates usually turn out to be "better per-mile, but there's often more work involved loading and unloading," Andy says. "And you've got to manage your sleep schedule well."
Since the hours of service rule now requires a half-hour break after any 8-hour on-duty period, the Johnsons and other high-security expediters have found themselves splitting 2, 8, 8 and 2 hours driving continually in order to satisfy the break requirement and maintain at least one person on-duty at all times to attend the load.
The Johnsons' operation also requires a level of intimacy with the freight uncommon in other general freight niches. "Specific types of things that make noise and go boom can't be with other things that make similar noises and go boom," Andy says. An example from another trailer-type operation would be a trailer full of mines with the detonators segregated in a box mounted on the tractor behind the cab.
Such operations also put restrictions on where you can stop, requiring a safe haven if both drivers go off-duty. "Sometimes you end up burning a whole weekend babysitting your freight," Andy adds.
But overall, the experience has been great, Andy says. "Doing government work was a natural progression for us, and doing it almost exclusively is the top of the 'food chain' for us at FedEx, considering our dog rides with us" and refrigerated loads are off-limits.
Getting the Defense Security Service background clearance was challenging due to recession-related credit issues, "but once we got those issues cleaned up, we have not looked back. We enjoy the work and understand its importance. From the people we work with on the government team at FedEx, to the people we meet at military installations and government contractors, the level of professionalism is high. We also enjoy the fact that other drivers we meet, even from other carriers, are usually very willing to network and share some of their knowledge about our niche in the industry."

Part 3 in this feature: How to contract to haul military freight direct