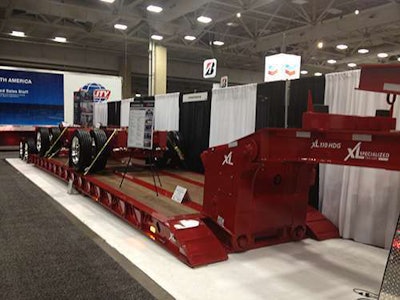 XL Specialized Trailers showcased its new custom hydraulic lowboy at the Great American Trucking Show in Dallas this week.
The XL 110 Low-Profile Hydraulic Detachable Gooseneck is a highly spec'd, 53 foot long, two axle unit rated for 110,000 pounds. overall and 100,000 pounds. in 16 foot concentrated. The flip and booster combo for the rear adds extends versatility for load distribution, as XL says it can make a 3+1 set-up with a spreader bar or both flips can be added to run as a four axle.
This trailer features five position variable ride height on the 10' 6" long low-profile gooseneck, and the top of the gooseneck has brackets for loading the spreader bar – giving drivers more room on the main and rear deck when the spreader bar is not needed. A 13 HP Honda power unit with dual hydraulics is protected in a toolbox at the base of the neck. The neck also has a 36 inch flip neck extension for use with a 4 axle truck.
The noteworthy 33' 6" long main deck features 18 inch loaded deck height with 6 inch ground clearance, raised Apitong decking, nine bent D-rings per side, and heavy-duty removable swingout outriggers. A 7 foot long bucket well at the rear with a plate on the bottom combined with the open boom trough in the rear bridge provide ample room for loading an excavator arm without damaging the cylinder.
The 25,000 lb. air ride suspension includes manual ride height and a raise and lower valve. PSI tire inflation system with gauge, liquid filled air gauge, limit chains on all axles, cam covers, auto slack adjusters, battery backup, extra mid-turn lights and taillight package with amber strobe round out this unit's specs.