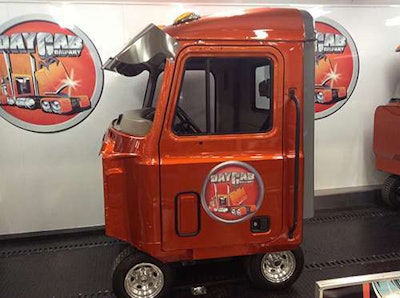 Aimed at owner-operators who want to cut their sleeper loose in hopes of saving weight — and fuel — and giving themselves the opportunity at adding a little extra weight to their load is the Daycab Company, which makes specialized kits that enables truck owners to do just that.
​The company, which is showing at the Great American Trucking Show in Dallas, has been around 13 years and looks to remedy the negative impacts of supply and demand on thedaycab truck market, says Daycab's Sales Manager Tripp Wood.
​Sleeper trucks roll off out of the factory at a four to one rate, compared to daycabs, Wood says. Given the shorter supply, the price point on a factory daycab is a little high for many owner-operators, especially given the nature of the work they intend to do with the truck, Wood says.
​Sleepers weigh roughly 1,100 pounds, and nixing them when they're never used allows operators to reap the fuel savings and convert their truck to a long-wheel-based daycab that fits their operation better.
​The company has kits for all major North American truck manufacturers except with Volvo, and they're easy to install — If you can manage your truck's preventive maintenance, you can install it, Wood says.
​Daycab Co. has a large distribution network of truck dealers, and they can install them too for customers, he says.