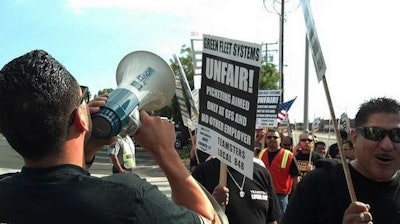 Los Angeles port truckers picketed an area trucking company Aug. 27, while the previous week, Oakland port truckers ended protests after port leadership agreed to reach out on their behalf.
On Aug. 20, Port of Oakland ended a strike that began the day before following a letter from Chris Lytle, the port's new executive director. What the port's website had described as 15-20 protestors had affected access at four of the five gates a day earlier.
"I will immediately reach out to the California Air Resources Board and ask for flexibility with the deadline that would ban trucks without the 2007 compliant engines at the end of this year," Lytle wrote in an open letter to affected truckers. "Also, I will ask each carrier to review their compensation policies and as appropriate, propose alternatives."
Lytle also pledged to work with terminal operators to improve truck turns. On Aug. 21, the Port of Oakland Truck Work Group met to discuss issues. The group is comprised of truckers, motor carriers, shipping lines, terminal operators, labor and port staff.
Los Angeles port Teamsters rallied with Green Fleet Systems drivers for a late afternoon finale of the 24-hour strike ending at company headquarters in Carson Aug. 27. The union alleges a GFS supervisor attempted to interfere with an employee's union organizing effort March 27. The National Labor Relations Board has agreed to hear the case later this year.   
The number of drivers estimated to have participated in the strike has varied widely, but the Federal Motor Carrier Safety Administration lists GFS as employing 124 drivers. The Teamsters reported striking port truck drivers are following company trucks and picketing when delivering to distribution centers.