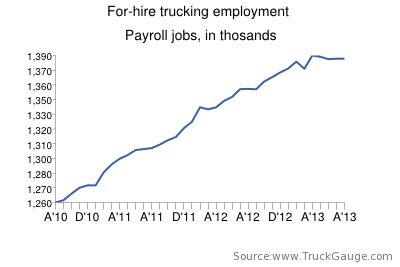 The for-hire trucking industry saw no gains or losses in employment in August, but the highlight of the month's jobs report is the downward revision of July's initial estimate, which was slashed from 6,300 jobs gained to just 400.
The numbers were reported Sept. 6 by the U.S. Bureau of Labor Statistics, who also reported the economy as a whole added 169,000 jobs in the month.
As with trucking, though, July estimates for the U.S. economy were downwardly revised from 162,000 jobs to 104,000. The unemployment rate, however, did fall another tenth of a percent to 7.3 percent. That drop is due mostly to people giving up looking for a job — one of the parameters of the report.
Trucking has added 26,300 jobs since August of 2012, bringing the total number of payroll jobs in the for-hire industry to 1.3828 million. That figure is up 12.1 percent — 148,800 jobs — from March 2010's bottom, but down 4.9 percent — 70,600 jobs — from January 2007's peak.
The Department of Labor's numbers reflect payroll employment for the for-hire trucking industry only and do not include trucking-related jobs in other industries, like at private fleets. The numbers also do not reflect the total amount of hiring, as they only count employees paid in a specific payroll period. The numbers also could be slightly overstated, as turnover rates are high in the for-hire industry.