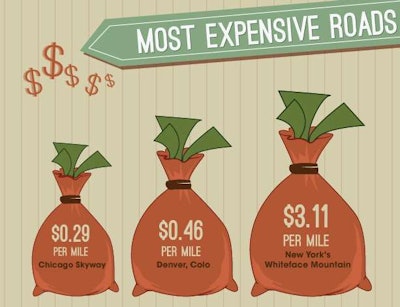 What states have the most tolls? And how is the money divvied up?
The infographic below, put together by CJ Pony Parts, E-Z Pass, Fox News, Toll Road News and Tollfinder.com, offers a glimpse into questions like that regarding tolls in the U.S.
Pennsylvania, New York and New Jersey have the most toll roads — 21-30 each — while a large chunk of the U.S. has fewer than five per state, says the "Tale of the Tolls" infographic.
Also, a trip down I-95 from New York City to Disney World in Orlando would run upwards of $28 in tolls, the infographic shows: