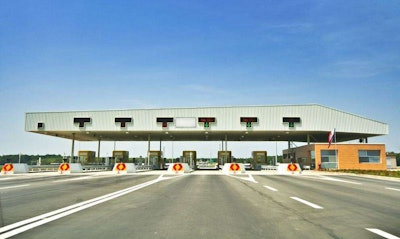 Several trucking companies and trucking trade groups have joined a band of other business and consumer organizations to form an anti-tolling group who says its mission is to keep existing interstates toll-free.
The Alliance for Toll-Free Interstates includes trucking industry members FedEx, UPS, Old Dominion, the American Trucking Associations, all 50 state trucking associations, the Truckload Carriers Association, Quality Transport, H&J Trucking, NATSO and others.
ATFI, a lobbying group, says it wants to show both the public and members of government the effects implementing tolls on interstates would have on business and the economy, as well as consumers.
The group formed in response to three states implementing pilot programs to allow tolls on existing interstate lanes, even though federal law prohibits tolling on existing Interstates. Moreover, ATFI says, "the tolling industry is pressuring lawmakers" to change the law and allow tolling on existing lanes.
Also, as the next highway bill looms and Congress searches for a solution to preventing the Highway Trust Fund going broke, ATFI says it hopes to show tolls as "unreliable, expensive and inefficient" as a mechanism for generating infrastructure funding.
Mega-carrier Old Dominion rep Bill Cranfill said while his company supports better highway funding, tolls aren't the route to take. Tolls are an inefficient method of funding, would increase the cost of moving goods, and would decrease efficiency by pushing interstate traffic onto less safe and slower local roads," he said. "[The] concept of unrestricted movement is a pillar of the modern economy."
Jay Perron, VP of government affairs and public policy for ATFI member International Franchise Association, says "unrestricted commerce…revolutionized" American business, and tolling the existing system would undo those economic gains, Perron says.
"[The Interstate system] is vital to the U.S. supply chain and has revolutionized the way America does business," says Jay Perron, VP of government affairs and public policy for the International Franchise Association, and an ATFI member. "Tolling existing Interstates would reverse this progress, raising costs for travelers, businesses and consumers and harming the many businesses and communities located along interstate routes subject to new tolls."
ATFI has put together the video below about tolls and the impacts the group says they'll have on the U.S. transportation system.