Last Wednesday, somewhere around 1.2 million people converged on Washington, D.C., to let our government know, in no uncertain terms, there are people who love this country enough to take time off from work, school, home and family to ride in solidarity and patriotism. These people felt it was important enough to physically show up and let our lawmakers know they're tired of the crap, and they won't take it anymore. There were carpenters, brick-layers, nurses, factory workers, retired military, active duty military and reserve duty military participants. Middle-class America was represented in every form. There were even a few truckers.
It's no secret truckers are a patriotic group. There's not another profession in which you get to actually see all of our incredible country from her very lifeline. If America were a human body, truckers would be blood and cells scurrying through the veins and arteries of it, carrying precious life-giving nutrients to every corner, assuring health and wellness from top to bottom. This is an amazing place. Traveling the roads with loads that make it function is about as patriotic as you can get.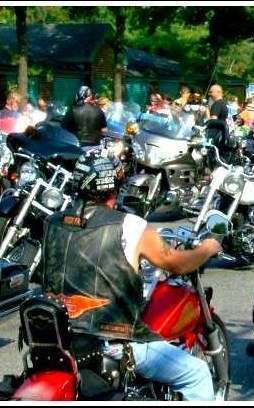 Lyndon Amory is one of those patriotic truckers. His Facebook profile reads, "truck driver, drummer, NASCAR official." He goes by the nickname Tumbleweed, and he started driving dump trucks when he was 17 years old, way back in 1975. Tumbleweed quickly graduated to an International cabover, hauling seafood up the East Coast, and went on to haul everything from meat across the Midwest to FEMA loads for Hurricane Sandy. He's currently settled at Tidewater Express in the Hampton Roads, Va., area, hauling heavy equipment on a mostly local route. He saw information for the ride on a Facebook post, shared it, and ended up going on the "2 Million Bikers to D.C." ride last Wednesday.
"I think the whole thing was pretty much organized on Facebook, I never saw a flier or anything, I just followed it on Facebook," he says.
An official head count by the D.C. police was estimated at 800,000. Tumbleweed thinks there were closer to the 1.2 million reported on the few news agencies to pick the story up.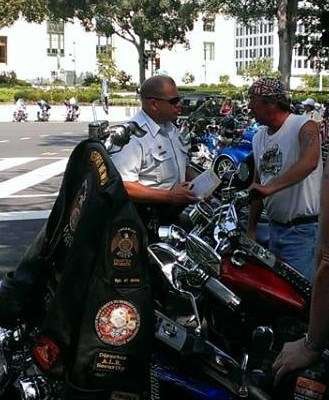 "They went to manual traffic control around the capitol — the cops would let a little group of bikes through, then make us wait. A lot of people overheated and had to park."
While the police in Prince George County, where the ride was staged, were co-operative and helpful, park rangers around the Capitol were not so eager to be of assistance. Tumbleweed's '85 wide-glide Harley is stroked, headed and cammed, not the best bike to be sitting still in 90 degree heat while running. He overheated and had a close call with the National Parks Police threatening to have him impounded, but he got it started again and was able to finish the ride-through.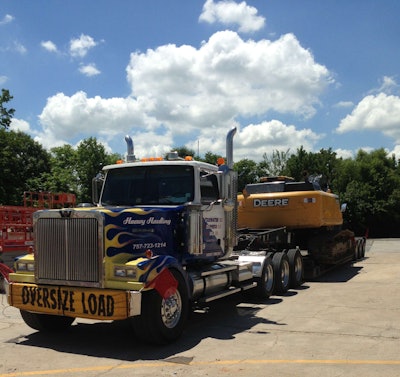 "It was really heartfelt," he says. "There were people waving and cheering us on from the sidewalks and overpasses — it was really cool."
With his 35 years of experience in the business, Tumbleweed understands the daily ins and outs of the industry. Even his year-long stint as a big rig driver for the Busch NASCAR team wasn't all fun.
"It was the most fun trucking job I ever had, but I worked my ass off."
Because that's what truckers do. A heartfelt thank you to Tumbleweed, and the roughly 3.5 million others who get the same job done. America wouldn't be what it is today without you.