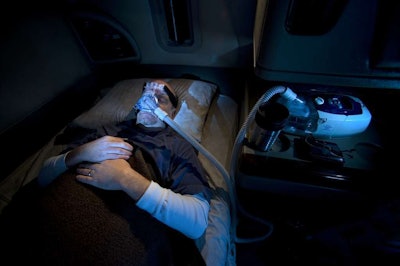 The House's Transportation and Infrastructure Committee will consider Thursday, Sept. 19, the recently introduced House bill that would require the Federal Motor Carrier Safety Administration to — if it were to take any action — pursue a formal sleep disorder screening rule rather than guidance. 
Nick McGee, press secretary for one of the bill's sponsors, Rep. Larry Buschon (R-Md.), did not say the bill would necessarily come to a vote, but he did say it would be considered.
The bill was introduced last week. If it were to become law, it would force FMCSA to go through the formal rulemaking process instead of simply issuing guidance on requirements for carriers to screen, diagnose and treat sleep apnea disorders like obstructive sleep apnea. 
In a letter intended to rally support from colleagues circulated last week, Buschon and Rep. Dan Lipinski (D-Ill.) said such screening and diagnosing would cost the industry $1 billion or more per year, and that a formal rule, unlike guidance, would require the regulation's cost and benefits to be properly evaluated and allow trucking industry stakeholders and the public to comment. 
The bill by itself does not require FMCSA to make a rule, but only requires that any action taken on sleep disorder screening come as a rule not as guidance. 
The Owner-Operator Independent Drivers Association and the American Trucking Associations support the bill.
However, according to govtrack.us, the bill has only a 27 percent chance of getting past the T&I Committee and a 7 percent chance of being enacted.