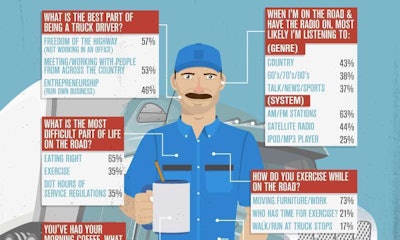 Sixty-five percent of truck drivers are now using smartphones, according to the latest King of the Road survey given annually by Atlas Van Lines to its drivers. Three-quarters of the driver respondents said they check email daily, and 84 percent said they access email daily.
See the responses in infographic form below.
More than half of drivers — 56 percent — check social networking sites like Facebook and Twitter each day, the survey says.
Two-thirds of the surveyed drivers spend more than 20 weeks on the road during the year, and a full quarter spend more than 40 weeks per year on the road.
Eating right is the most challenging part of the job, the survey says, with 65 percent of respondents ranking it No. 1. Exercise and hours of service regulations ranked second each at 35 percent.
Recycling has become somewhat of a priority for the survey respondents, as for the first time more than half of the drivers surveyed said they seek out opportunities to recycle aluminum, plastic and glass on the road.
Atlas also this year put together an infographic from the results of its survey (see it below).
Here are the results of driver respondents roadside favorites:
Favorite fast food: Subway
Best coffee: Dunkin' Donuts
Favorite hotel chain: Super 8
Best truck stop chains: Flying J and Pilot
Favorite on-the-road snack: Fresh fruit
States with the best rest stops: Florida and Ohio
Most effective antacid: Tums
Favorite on-the-road music genre: Country
Best tires: Michelin
Favorite motor oil: Shell Rotella
Best tractor: Freightliner
Here's the infographic: