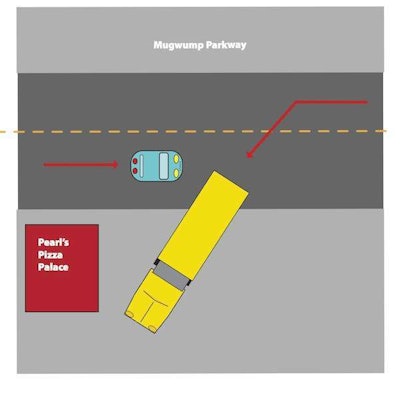 Truck driver John Doe was in the northbound lane at a light waiting to turn his tractor-trailer across opposing traffic in the southbound lane to make a delivery at Pearl's Pizza Palace. 
When an empty stretch opened, Doe seized his chance and began his turn. Meanwhile, way out in the southbound lane, a lead-footed driver in a baby blue Trans Am Formula 350 slammed the throttle, aiming to beat the "pink" light ahead. She shot through the intersection and suddenly was faced with the last couple feet of Doe's tractor as he was turning. 
She misjudged the distance and her speed and crashed right into the corner of the trailer. No one was hurt, but when the police arrived, they cited Doe for failing to yield the right-of-way. Later, Doe was hit with a preventable accident warning letter from his carrier. 
Doe contested, and the National Safety Council Accident Review Committee ruled in his favor, saying there was nothing he could have done to anticipate or avoid the red light runner. 
This was an adaptation of Overdrive sister site CCJ's "Preventable or not?" series, which appears regularly on CCJdigital.com.