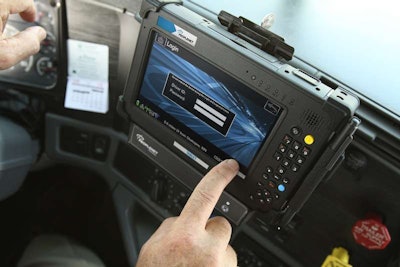 The electronic logging device mandate (aka electronic onboard recorders) is still on track for the Nov. 18 publication the Federal Motor Carrier Safety Administration has been aiming at for sometime, as the White Houses' Office of Management and Budget is expected to clear it for publication in early November.
The OMB received the agency's Supplemental Notice of Proposed Rulemaking Aug. 7, and FMCSA anticipates clearance of the rule Nov. 6. The agency would then publish the proposal Nov. 18 and accept public comment until Jan. 20.
Moreover, the Office of Transportation Secretary received the agency's Notice of Proposed Rulemaking related to driver coercion since Aug. 28 and is expected to get the rule to the OMB by Oct. 1.
The MAP-21 highway funding authorization act from last year directs FMCSA to develop an electronic logging device mandate, but it also directs the agency to protect drivers from pressure to work in violation of safety regulations.
The agency also has started referring to the devices as electronic logging devices to reflect language used in the MAP-21 law, as opposed to the previous term, electronic onboard recorders.
As part of its study on driver coercion, the agency says it plans to gather 1,039 responses from surveying and interviewing drivers and carriers, including paying 510 drivers at truck stops $10 each for completing a survey. The Information Collection Request will last 15 months and has a $460,000 budget.
The coercion plan is expected to clear the OMB Dec. 31, allowing FMCSA to publish a Notice of Proposed Rulemaking by Jan. 9 and take public feedback through March 31.