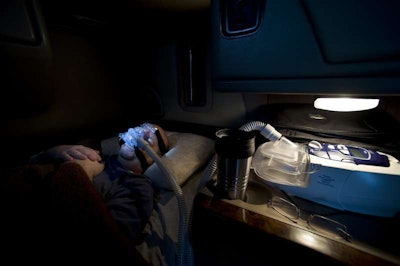 In response to a bill currently in the U.S. House, the Federal Motor Carrier Safety Administration has released a statement saying it will address sleep disorder screening via its formal rulemaking process and not simply guidance. 
The House bill, introduced earlier this month, would require FMCSA pursue rulemaking if it were to take action on sleep disorder screening and not issue guidance. 
"FMCSA will issue a notice to address obstructive sleep apnea through the formal rulemaking process after collecting and analyzing the necessary data and research," the agency's statement said.
According to GovTrack, the House's sleep apnea bill passed the Transportation & Infrastructure Committee, and House Majority Leader Eric Cantor said Sept. 20 the bill could see action on the House floor this week, GovTrack says.
The 2-page bill, if enacted, would not by itself require the agency to develop a sleep apnea rule. It only requires that FMCSA go through the formal rulemaking process when making the bill so it can be properly evaluated. Sleep disorder screening would cost the for-hire industry alone $1 billion a year, said the bill sponsor Rep. Larry Buschon (R-Md.), "in the interest of due process."
Click here to see previous Overdrive's previous coverage of the bill.