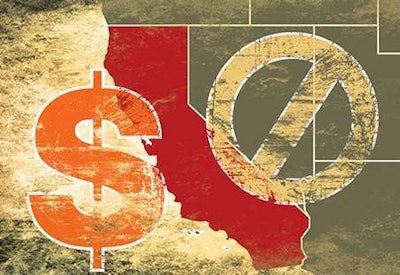 Road rumors were the talk of the summer: On call-in shows, the CB and social media, truckers debated the likelihood of a further delay in the California Air Resources Board's powertrain upgrade compliance requirements for small fleets and owner-operators. Owner-operators and fleets with three and fewer trucks registered with CARB had been granted a reprieve from compliance with rules to date requiring upgrades of trucks with 1996-2004 model-year engines. That extension runs out at the end of the year, and 2005-06 engines now come into CARB's upgrade mix.
"We've heard rumblings that there are probably going to be extensions," reader Donna Klaffky Pullan posted to Overdrive's Facebook page in August. "What are you hearing?"
Simply, further extensions are not in the offing, says CARB Public Information Officer Karen Caesar. Come Jan. 1, she notes, "the first [particulate matter] filter is now required" for small fleets with 1996-2006 model-year equipment under the upgrade requirements of the agency's Statewide Truck and Bus Rule. For owner-operators of trucks powered by 1996-2006 model-year engines, this means it's compliance crunch time if you live in or are running into California on a regular basis.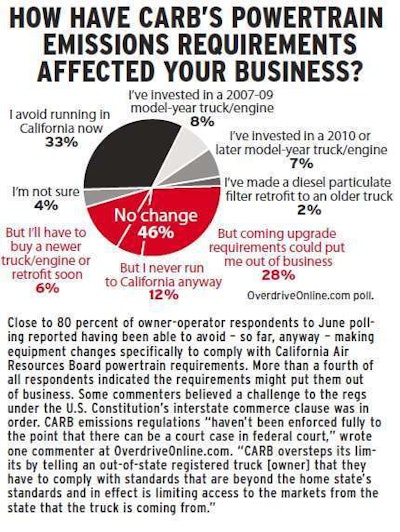 Strategies for dealing with CARB requirements range from short- to long-term. Shifting freight lanes or continuing to avoid California are the most common options for owner-operators nationwide, according to summer polling. Forty-five percent of Overdrive readers noted they'd either quit running to California (33 percent) or never did in the first place (12 percent).
Owner-operator Bill Taylor's 2007 Western Star, powered by a 2006 14-liter 515-hp Detroit engine, was leased to FedEx Ground until recently. "They told me I'd have to have my truck CARB-compliant," Taylor says. He researched his options, working in part with his business services provider, ATBS, and the organization's maintenance consultant, Bill McClusky.
Taylor found diesel particulate filter retrofits – putting a particulate matter filter system onto a 1996-2006 model-year engine – to be the least expensive option, even at $15,000 to $16,000. He worked through Ironman Parts, which he calls a "clearinghouse for retrofits," to come up with an all-inclusive estimate based on his truck specs. "Drop your truck off and two days, three days at most, when you come back, it's all set to run in California."
He was considering working with DPF retrofit manufacturer Cleaire, but the company went belly-up following some recalls and fires reportedly caused by a malfunction in its LongMile DPF.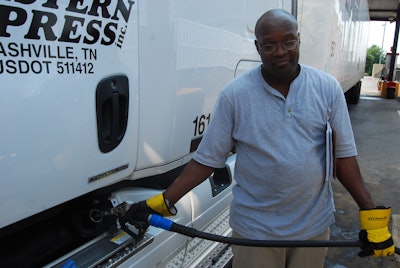 Buying used? Check engine model year closely | If you're out shopping for a 2007 and later model-year truck in order to continue hauling to California, mind the engine model year of 2007 and 2010 trucks. In used 2007 trucks, there's a relatively high likelihood the engine model year is 2006 due to the large fleet pre-buy that occurred leading into the exhaust gas recirculation-intensive 2007 emissions specs. Buy a 2007 truck with an '06 engine, and you're still not in compliance with CARB requirements come Jan. 1, says Bill McClusky, maintenance consultant for business services provider ATBS.

McClusky's advice for long-term industry participants – to look for 2010 and later trucks – likewise comes with a caveat given the 2010 transition year. "Make sure that 2010 truck has a diesel exhaust fluid system in it," he says. If not, the engine model year is probably 2009.
Phoenix- and Las Vegas-based Lightning Logistics, a small fleet with 16 company trucks and about 10 owner-operators, has three fleet trucks serving California and registered with CARB, says co-owner Joe Hammerslough. He kept his truck registrations low to take advantage of the compliance extension for small fleets – which includes a year-by-year upgrade phase-in option – and still run his already-compliant newer trucks in "the biggest U.S. state in terms of freight."
"There's a lot of freight out of California," Hammerslough says. "CARB is having a major effect on long-haul trucks."
Under the phase-in option, the first of those three registered trucks will have to be upgraded before the beginning of 2014 for Lightning to remain compliant, the next by 2015, the third by 2016.
He describes his thinking: "One of our trucks is a 2005 Peterbilt 387 – it's worth around $20,000. How do I justify putting $18,000 into the truck [for a DPF retrofit] that won't increase the performance at all? That's the issue. So, really, what it comes down to is I have a $20,000 truck with a serviceable life of three or more years that I now have to take out of service."
Hammerslough's thoughts echo those of many truckers who see CARB's rules, unique among other state and federal air-quality regulations, as setting dangerous new precedents by giving operated equipment a premature shelf life. With cars, farm trucks and other equipment, he adds, the general approach in other states has been, "You can drive the old pre-smog vehicle. You can just get rid of it when it runs out of useful life, and it goes away by obsolescence. With trucks, they've said, you've got to fix your truck or get rid of it."
The small fleet phase-in option is something of a "sweet spot" for smaller trucking companies in CARB requirements, says Joe Rajkovacz, former owner-operator and now government affairs director at the California Construction Trucking Association.
Still, CCTA continues to pursue federal litigation currently on appeal over CARB's aggressive regulation of the industry. The trucking industry needs to know "if environmental legislation trumps all federal law," Rajkovacz says. "Buying a truck and keeping it for many years – and in some cases into decades – has always been one of the strengths of small-business trucking."
The argument made by the CCTA suit is in some ways similar to the one the American Trucking Associations successfully pursued with the Port of Los Angeles' Clean Trucks Program. ATA objected to the port's attempt to eliminate the use of independent contractors involved in port drayage. That decision hinged on the Federal Aviation Administration Authorization Act and its prohibition of state laws or regulations that affect motor carrier prices, routes or services.
The initial decision of the Sacramento circuit court against CCTA was not based on the merits of the argument, in the view of Rajkovacz. Rather, he says, Natural Resources Defense Council lawyers, acting on behalf of CARB, got a somewhat procedural ruling because CCTA hadn't included the U.S. Environmental Protection Agency as a target of the lawsuit with CARB: EPA approved CARB's State Implementation Plan for the Truck and Bus Rule, hence it federalized the rule, CARB/NRDC lawyers argued.
The possibility that the suit will fail on appeal – and the court ultimately will give CARB the go-ahead on the diesel engine restrictions – has watchers like McClusky urging owner-operators to consider the regulations as permanent. "I really believe a lot of these owner-operators are biding their time, hoping something happens that makes this go away," he says.
If staying out of California is your strategy, know that it's something of a gamble in terms of the rest of the country. Under the Clean Air Act, California has special status in relation to EPA: The state holds the right to develop its own more stringent standards, which other states then can adopt or not. As regards clean air laws, "what starts in California ends up running across the United States," McClusky says. "There are 20-some other states that have expressed their intent to adopt the CARB regulations. … My opinion is it will happen – it could be six months or six years from now."
Owner-operators planning long-term should get a 2010 or later model-year engine, McClusky says. Those engines push CARB compliance deadlines out as far as they go, and operators gain the benefit of fuel-saving technology.
While 2007-09 model-year engines will keep operators compliant with the Truck and Bus Rule through 2022, "from a fuel mileage perspective, they are some of the worst," says McClusky. "With 2010 engines and later, all that changed, allowing them much better fuel mileage. If I'm going to be in the industry at least another 10 years, the benefit of having that fuel mileage will be great. If you're only in it for another three years – maybe jump into a 2007-09 and finish out your time, or make the gamble that other states won't adopt [CARB regulations]."
McClusky and others, however, acknowledge the difficulty of financing a new truck for owner-operators, and used trucks with 2010 engine technology are hard to come by – and none too cheap. "This whole regulation is driving up prices on [CARB]-compliant trucks," McClusky says.
Hammerslough says "2010 technology is still in the $70,000 range" for a basic sleeper truck, and as much as $100,000 or more for a premium-spec'd Peterbilt.
Read Part 2 in this series, detailing CARB's emissions-regs enforcement patterns and powers, and more on operational choices.