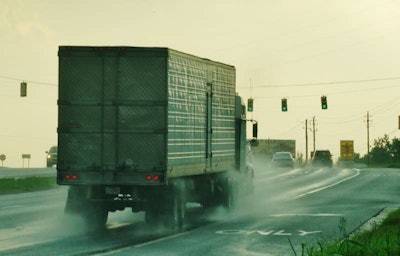 It's been one wild ride through 2013 here on the Channel 19 blog, like the CB channel for which it's named a repository for your most salient points about all manner of trucking subjects as well as feints toward good humor, many of the latter going farther and hitting the mark straight on, but of course. I hope you'll indulge me in a run back through the year, starting today and continuing on through next week. So without further ado…
January | The year got started off right with the very first post of the year invoking the problems with the CSA program — with FMCSA reminding carriers to update their MCS-150 forms with annual miles-run data as well as fleet power-unit numbers, a key metric in both Hours of Service Compliance and Unsafe Driving scoring categories. Many owner-operators, however, had more pressing issues out West, as was illustrated by the case of owner-operator Martin Jez, based in California. Hard-fast California Air Resources Board powertrain upgrade deadlines at the end of the year had many operators considering a personal boycott of running miles within the state's borders, not exactly a possibility for Jez, based in Galt.
Running in reverse, and holding onto a 1988 Peterbilt cabover he'd run for a time, might have been a better option than his 2000 Freightliner — with the 1988, he'd have had an extra year of legality out West, one of many paradoxes about CARB's Truck and Bus Rule that would plague the conversation around it throughout the year.
With a mandate for all interstate drivers to use electronic logs expected at some point in the year (haven't seen it yet, but there are a few days left, after all), the name-change game was being played in prominent places. ELD was smelling a good bit better for some than EOBR, tainted by a decade of politics.
A Maine log-hauling legend got a final send-off, as did a hard-rocking owner-operator Smokin' Joe Lee Smith, and some cool views of a longtime Michigan-based owner-operator's big-bunk Freightliner whetted custom-rigs appetites. The first month of the year inaugurated a series with views on readers' own pictures of and details about recent interesting loads (Get your load on!), which would ultimately be Overdrive's fifth-most-popular story of the year.
February | Federal regulators used baseball batting average analogies in increasingly combative attempts to fend off objections to the CSA program's odd way of scoring small carriers. February saw the beginning in the magazine of my three-month feature series on the CSA program — the first covering the Pre-Employment Screening Program and the data systems arranging themselves in constellations around the professional driver's job.
Big trucks were not accelerating unintendedly, unlike quite a number of four-wheelers, yet they continued to be "an eyesore and a nuisance" for some town councils viz a viz new parking ordinances.
One of my personal favorite stories of the year, that of small fleet owner-operator Eldon Jaeger's cancer-research mission with the Long Haul Survivor raffle rig, got under way with this post, my first wind of it.
Drug/alcohol testing consortium horror stories were shared, and the smell of asphalt in the morning was trending, well, pig farm.
March | An economist and a recruiter sat around the bar talking about the so-called "driver shortage" — kind of like walking into a Cadillac dealer with$30,000 expecting to buy a new Escalade, said the economist. When "the dealer turns down your offer, do you walk out of the dealer telling everyone who will listen that there is a shortage of Escalades?"
One California-based hauler's CARB strategy was looking more and more like finding a new career, while owner-operators around the nation continued to insist they'd never run in state again unless they had to. A satirical sticker expressing such sentiment was created and, subsequently, marketed.
Lake Norman boaters in North Carolina were flashing truckers on the highway, a breathalyzer test became another thing to do with your phone, and at the Mid-America Trucking Show in Louisville, a few owner-operators walked and talked with FMCSA Administrator Anne Ferro. Among perhaps more interesting news from MATS was owner-operator John Rodriguez' Roller Rak one-truck portable tarping system.
One reader wondered hopefully whether FMCSA might be sequestered following so-called "fiscal cliff" budget negotiations failing.

April | FMCSA called off plans for its red-shirt mandate to start out the month, while other towns around the nation mandated gun ownership by their citizens, a practice with a rich history. Frequently expressed opposition to the national drug and alcohol test results clearinghouse was wondered over by some readers. And in the wake of the Boston Marathon bombing, owner-operators put on their running shoes.
A truck thief attempted to justify his theft by claiming zombies were after him and he needed an appropriately sizable getaway vehicle. Levi's proclaimed all truckers were 20 percent off.
CSA was on air at the CVSA meeting in Louisville, Ky., and DataQs tips were shared — all the same, the process for challenging violations continued unpalatable, to say the least.
Think trucking in the U.S. is tough? Consider trucking into and out of Syria these days.