I don't know about you, but today feels like a great day for a run to me.
And I'm talking human-powered, here. I've got my East Nashville TomatoFest 5K race shirt on today in honor of the victims of the bombings at the Boston Marathon, following an idea I hit on checking in with other members of the Truckin' Runners Facebook group after hearing about the explosions yesterday. One driver there posted this shot of his Garmin wristwatch with the note "This one's for those at Boston."
Heck yeah, I thought, the perfect day to get back up on the ankle I sprained two weeks ago running while pushing my daughter in the jogging stroller around the neighborhood (she came out just fine from the toppling of the stroller — me, not so much).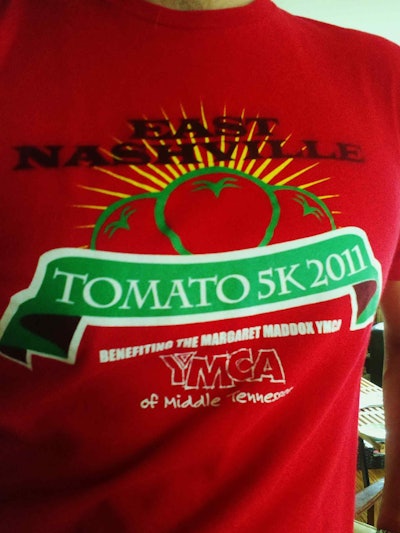 My three-mile session on the East Nashville YMCA treadmill last night felt like about the best I could do from this far remove from the Northeast. Keep on getting 'er done, what we do in the face of the disgusting, nasty evil that leads some down the road of pulling a stunt that kills, maims or otherwise injures people living free lives.
Checking back in on the Facebook group after the run, I noticed another post that suggested wearing race shirts today — or otherwise the Boston Marathon yellow-and-blue colors — in solidarity with the victims. I'm all for it, as you can see from the shot at right.
Are you doing it, too, by chance? If so, post your pictures to Overdrive's Facebook page. I'll be posting mine shortly.