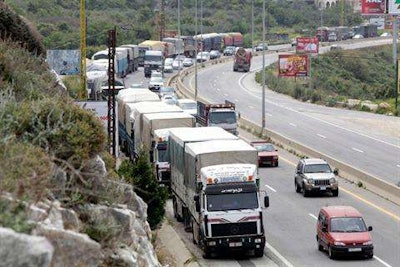 Lest you despair o'er a little (or a lot of) numerical safety rating or all the difficulty parking or the growing gridlock, take a moment to remember our brothers and sisters hauling freight round the world. It's been two years since we interrogated the stirrings of discontent among haulers ahead of the Egyptian revolution, and nearly three since gridlock in China came up, so when I came across this piece about the woes of Syrian haulers bringing freight in from neighboring Jordan and stuck on a bridge behind a security checkpoint for an amount of time measured not in hours, but days… Yeah, I thought you might find it of interest.
Key quote, from a hauler well into his third day out on the bridge: "We are living like dogs."
As the rebellion continues in that country, whatever you think of it, say a little prayer for all the hardworking guys just trying to get 'er done day-in day-out, wherever they happen to be.
Safe haulin' this weekend for everyone out on the road…