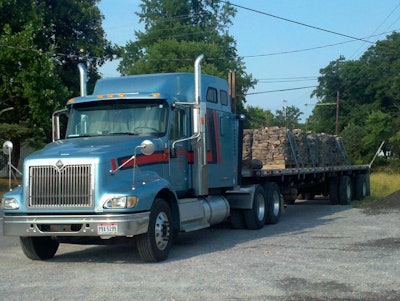 UPDATE 2/20/2013
According to this report from the Macon Telegraph newspaper, the Warner Robins, Ga., city council unanimously approved the 2-hour parking limit for trucks in the city limits, with the exception for haulers who had obtained permission to park from the property owner. Read more about it here.
ORIGINAL STORY BEGINS BELOW:
A vote scheduled to take place today in the city council of Warner Robins, Ga., would, if successful, ban truck and trailer parking within the city's limits. This report from the local Fox affiliate even has councilman Mike Brashear, primary proponent behind the measure, calling trucks parked in lots and/or trailers dropped on properties around the city "an eyesore and a nuisance."
Judging by the commentary under the Fox story, which you can find via this link, you're not the only driver likely to take umbrage with Brashear on this issue.
It's attitudes like these around the nation that we're up against on the parking issue. They make it ever more important for drivers to continue to stress with their U.S. Congresspeople and Senators (and local reps, too) where exactly parking is most needed along their lanes and in their areas, as I wrote here following the Jason's Law provision's inclusion in the 2012 MAP-21 highway bill. As some local and state governments continue to restrict truck parking or otherwise lack the cash to address parking-availability problems or the will to allocate it, the Jason's Law provision in MAP-21 at least ensures that the federal government has the ability to direct part of the DOT budget to truck parking along National Highway System lanes for safety and security of the freight network.
Find directory lists of Senators and Congressional reps in links in this story.
As Overdrive's own Wendy Parker commented under the story about Warner Robins, "These 'eyesores' bring your kids their groceries. When will people realize they have to have trucks to survive? Why would you tell the only lifeline to the outside world (and your cool new tennis shoes) they can't park in your city?"
While such abstract arguments have lost power with various repeated permutations through the years, Parker didn't stop there. Regulators, representatives, people in general respond more actively to personal examples of a problem's impact, ultimately. Parker mentioned having been in Warner Robins a week prior to her comment and noting just one truck stop serving a busy area.
When contacting your reps/Senators, tell them where you've had problems, and be specific about its impact on your ability to succeed and/or operate safely.
There are plenty of good examples of this, of course. As I said earlier, of course, Parker wasn't the only responder to the Fox story about Warner Robins by any stretch. Check out the remainder, or weigh in yourself, here.