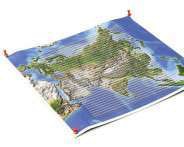 Now that is gridlock
Next time you're beating your steering wheel in a mammoth traffic jam, consider this: Two successive 60-plus-mile traffic jams, lasting more than a week, plagued the Beijing-Tibet Expressway toward China's capital city in late August, highlighting congestion woes that make our own seem piddly. The second of the big jams, Reuters reported, was led by big coal trucks, an estimated 10,000 heading toward Beijing in early September. Reuters reported the number of trucks, as well as the gridlock, is common in the rapidly growing nation.

Joe still smokin'
Raised on country music and truck driving in Texas, 101 Transportation leased owner-operator Joe Lee Smith spent the late 1970s and much of the '80s in Sacramento, Calif., where he crewed for Ronnie Montrose and Tesla, among others. Later, running long-haul, he turned his trucking experience to rock 'n' roll, and his "Smokin' Joe in Overdrive" made the rounds of the truck stop cassette racks in the early '90s. Trucking DJs didn't quite know what to make of his sound and wouldn't touch it, says Smith. Today it's finding more of an audience via MP3s at smokinjoeleesmith.com and a newly designed album, now on CD. He credits that acceptance in part to country music's evolution: "It's gotten to where it's really rock 'n' rollers in boots and hats anymore."

Crowd-sourcing roadkill
Researchers and other users of the California and Maine Roadkill Observation Systems (wildlifecrossing.net) are pinpointing the states' most dangerous roads, in an effort to determine their environmental impact, through use of driver-submitted data. Their web portal allows users to post roadkill location information and photos, making for a somewhat gruesome collection. The researchers also hope for effective warnings of large-animal crossings. That could save lots of mammals, not to mention a custom bumper or two.

The case against locked trailers
Though cargo theft is on the rise, one hauler's unfortunate accident on I-70 in Indiana points to the potential convenience of an unlocked trailer. WTHI television in Terre Haute reported on the fire that consumed the rig, though there were no injuries. And what was behind the trailer's locked doors? A load of fire extinguishers.

" I absolutely loved when we would flash our lights to tell the other drivers it was OK for them to get in front of us, and they would thank us by flashing their lights back. It was like entering a whole new community… I always enjoyed getting to talk to the drivers when they would come over and look at my racecar. I gained a lot of respect for truck drivers. "
— NASCAR Camping World Truck Series driver Caitlin Shaw (caitlinshawracing.com), about the three teenage years she spent with her father as he hauled his truck to various races. Shaw, with sponsor Oil Medics, launched a trucking-awareness campaign in September to recognize haulers with "green" modifications.
For your daily dose of trucking humor, oddities and coverage in the media, visit: OverdriveOnline.com/channel19.
SEND US STUFF:
Overdrive, 3200 Rice Mine Road N.E.,
Tuscaloosa, AL 35406, or e-mail tdills@rrpub.com.