When I made a brief note about unrest brewing over rising food prices and the general employment situation in the North African states of Algeria and Tunisia in my post about the 2008 oil bubble (and current one, if we can consider it such — final word still out on that), little did I know how much would change in two weeks in the reigon. Since, of course, the Tunisian dictator has decamped and, inspired by their Western neighbor, Egyptians of all stripes have taken to the streets in protest themselves, where today chaos reigns.
The Journal of Commerce has this piece about what ocean carriers are doing to monitor the security of the high-traffic Suez canal, but check out this report from the Jordan Times about a convoying group of Jordanian truckers returning from a "three day 'nightmare'" haul from Suez to the Sinai peninsula town of Nuweibeh. The haulers described "vandals" taking advantage of the security situation in Egypt to shake them down for cash, after which they relied on friends among Egyptian locals along their frequently traveled routes for assistance in getting home.
Makes this week's blizzard across the U.S. seem quite mild by comparison, no doubt.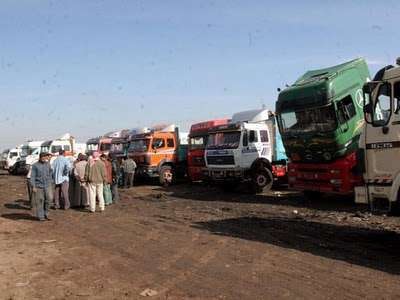 The current unrest in Egypt seems to have followed in part on the heels of a widespread December truckers' strike there in response to a two-fold tax hike on carriers, a ban on highway use by haulers on Thursdays and Fridays and other measures announced by the Transport Ministry, producing food and goods shortages in some areas. Reports such as this one (click on the image here for another), detailing some striking truckers' actions against their rolling counterparts in December, show the chaotic economic and political environment in the country has been brewing to a head for quite some time.
Note that the above links to stories about the strike ongoing came after drivers' associations in the initial strike called it off in mid-December. Drivers apparently didn't trust the word from the government that the tax would not go through, and getting no answer on the ban on highway use on Thursdays and Fridays, noted a report at Ahram Online early in the strike, "it is unclear why the strike went on for four more days …, but a lack of trust in government promises seems to be key." Clearly, the drivers there aren't the only ones who lack such trust. Here's hoping things settle down and look up for drivers and others in the country soon.