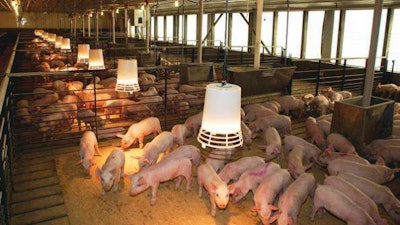 File under "tax dollars at work"?
In the near future, don't distrust your senses if that beautiful smell of asphalt in the morning is redolent of, well, hog farm. All the same, the effluvia may be good news for the state of highway infrastructure in some quarters of the country if the makers of PIGrid (pronounced like "hybrid") are correct.
On the website of fellow Randall-Reilly Business Media magazine Better Roads, serving the business needs of the road construction industry, Tina Grady Barbaccia detailed the new technology, which makers tout as a replacement for petroleum-based bonding material in much of the asphalt used on roads in the United States. PIGrid is an alternative bonding substance with adhesive properties made from hog waste.
Researchers received about $1.2 million in funding from the National Science Foundation to develop it. "Compared to petroleum-based binders that cost about $2 per gallon, hog waste can be converted into a longer lasting binder at only 50-cents per gallon," Barbaccia writes.
Anything for cost savings, eh?
Related from 2012, another odd waste-related road material: Concrete from the potty