Today, a little info on a show with some growing notoriety following a phenomenal success last year — the Midwest Pride in Your Ride event, scheduled for May 3-4 this year at the Tri-State Raceway in Earlville, Iowa, in 2012 ended with a check written for a grand total of $49,019 to go to the Dyersville area's "Relay for Life" chapter, benefiting the American Cancer Society. The regional event includes a working-class truck beauty competition, truck pull, a "rodeo" driving skills competition, truck drag racing (pictured, above) and a cancer survivor convoy, among other attractions.
By all accounts, it's a great affair.
If you live in or near the area, or could reliably be passing through in early May, take it under advisement. Find full details about the show here.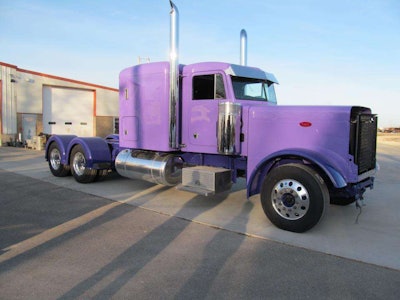 One particularly interesting feature this year is a raffle getting under way there whose main prize will be the picture "Longhaul Survivor" truck, a 2000 Peterbilt 379 powered by a Cat C15 and 13 speed transmission. Organizers are building the rig in coordination with various sponsoring organizations/suppliers. They shared this picture yesterday on the event's Facebook page with the note, "Longhaul Survivor was outside today for some fresh air and sun. What do you think? Starting to look like a truck…."
Find photos of the project in progress here.
The first raffle ticket ($10) will be will be sold at this year's event, and the rig will be given away to a lucky winner next year.
"The truck is planned to make many Midwest truck shows and parades over the next year," say organizers. Tentative schedule is as follows:
St. Patty's Day Parade – Dyersville, Iowa, March 16
Midwest Pride In Your Ride – Earlville, Iowa, May 3-4
Wheel Jam – Huron, S.D., May 31-June 2
Vintage Truck Expo – Baraboo, Wis., June 22
ATHS SE Iowa Chapter – Ottumwa, Iowa, June 29
Truckers Jamboree – Walcott, Iowa, July 11-13
Waupun Truck-n-Show – Waupun, Wis., Aug. 9-10
Big Iron Classic – Kasson, Minn., Sept. 6-7
ATHS Southern Wisconsin – Richland Center, Wis., Oct 4-5