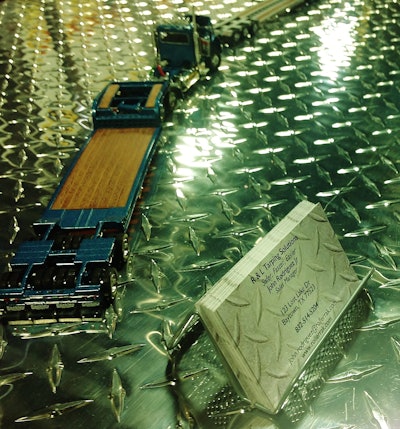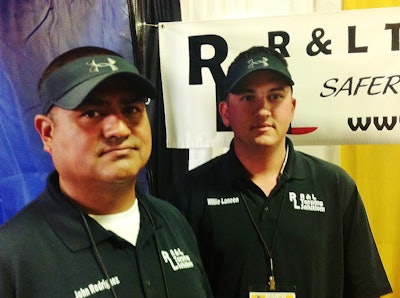 Mercer-leased owner-operator John Rodriguez (pictured, left), with his R&L Tarping Solutions business partner Willie Lancon (right), offered up this neat display on a diamond-plate-capped tabletop in their Mid-America Trucking Show West-Wing booth in Louisville this past week. The miniature platform truck-and-trailers showcased the possibile applications for the portable tarping system Rodriguez and Lancon have designed, currently in prototype and assessment phase — they're looking into different potential manufacturing partners to determine the best options for owner-operator affordability before they put the system to market.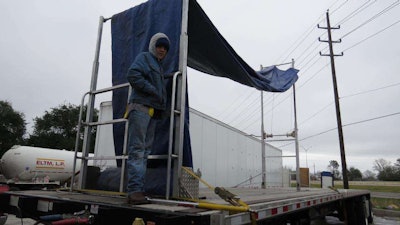 While most other tarping aids are more or less stationary systems or less-functional tools, the Roller Rak's two primary pieces can fairly simply travel with the truck and secure to whatever flat deck you're pulling via two-inch straps during use. Its genesis is in hard-won experience Baytown, Texas-based Rodriguez has gotten pulling flats for Mercer and previously as an independent small-fleet operator. He slipped and fell while tarping tall loads on his 2013 Great Dane 48-ft. spread-axle flatbed in ice and snow twice over the course of a month and said to himself, "there has to be a better way."
Over the course of months he conducted nearly 250 interviews with fellow open-deck haulers and others and then began to put together the design for the Roller Rak. The "machine will give you the capability to go 10 feet up" from deck height, he says, without climbing on top of the load. Today, Rodriguez's running the Roller Rak prototype, whose all-aluminum design weighs just 127 pounds with no single piece of it heavier than 72 pounds, on the flatbed and saving loads of time himself.
Keep an eye out for announcements of potential availability this year on the Roller Rak Facebook page, should Rodriguez and Lancon get everything in order for a product launch. And tell us what you think about it here in the comments.