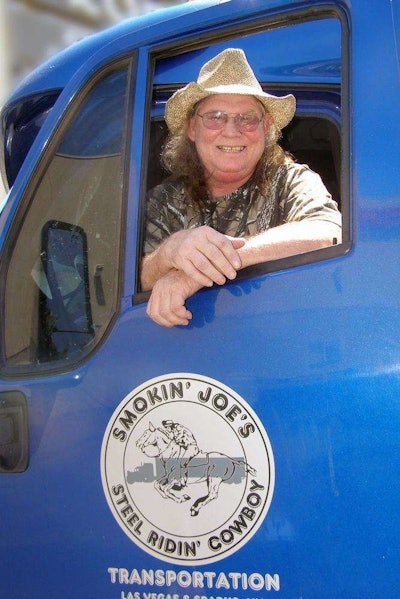 Today, a salute, a send-off, for Smokin' Joe Lee Smith, a hardworking free spirit of a driver well-known for his 1989 album of rock 'n' roll truck-driving music, Smokin' Joe in Overdrive. I wrote about Smith after his record found a second life back in 2010. (Find a more detailed story about the record and Smith in this story, part of my column for Truckers News at the time.)
Longtime friend from the Texas-based owner-operator (Smith was leased in 2010 to 1010 Transportation out of Minnesota), Ken Nicholson sent along and posted the following dedication at the owner-operator's music website:
It is with a heavy heart that I write that Joe Lee Smith passed away New Year's Day, 2013 at the age of 60. He had been in the VA hospital in Loma Linda, California for several weeks due to complications from COPD and diabetes.
Known by all as Smokin' Joe, he lived his life exactly as he wanted, free and uncomplicated. He pursued both of his passions, trucking and music, with the excitement of a kid and the wisdom of a veteran.
Many of you knew Joe through his associations with Jet Red, Ronnie Montrose, Tesla and numerous other bands. Others crossed paths with Joe during his stints at various long-haul trucking companies, during which he logged more than three million miles…. Read his full statement here.
At the end of it, it bears mentioning, Nicholson included several quotes from fellow haulers inspired by Smith's music, and at the very end, a stanza from Smith's "Demon Wind" track itself:
I live to hear my engine roar and race the new sunrise
To smell pine-covered mountains, see the desert's lonely skies
An outlaw cowboy trucker's all I am and ever been
My life has never been the same since I felt that Demon Wind
R.I.P. Smokin' Joe.