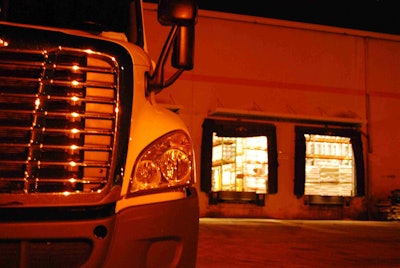 Fleets should be reluctant to abandon paying drivers by the mile — such was the conclusion of a panel on driver compensation, recruiting and retention, hours of service and driver health and wellness held for fleet managers at the American Trucking Associations' annual conference this week.
But, the panel also concluded, driver compensation must be changed enough to make sure drivers are paid for work done and time spent not behind the wheel. And 91 percent of ATA's long-haul truckload carrier members say they have either already raised river or pay or plan to in an attempt to boost recruiting and retention.
Overdrive Senior Editor Kevin Jones has a full write-up on OD sister site CCJ, detailing the panel discussion that included ATA Chief Economist Bob Costello, ATA Senior Vice President Dave Osiecki, Gordon Trucking Chief Operating Officer Steve Gordon and Werner Enterprises Chief Operating Officer Derek Leathers and Wal-Mart's Vice President of Transportation, Jeff Flackler.
Costello noted that driver pay, compared to 1990, has 10 percent less buying power today. For a job that's so highly in demand by an industry, that's uncommon, Costello said at the panel.
When posed with the question of whether it's time for the industry to move to paying drivers per hour, Gordon said an hourly pay scale would be "financial suicide," and that carriers can't disconnect how they receive the business receives its payments from out it pays drivers.
He did say, however, mileage-based pay needs adjustment to properly compensate drivers for their time not driving. Too much, Gordon said, shippers dictate drivers' schedules and make it impossible for carriers to plan a schedule for and pay drivers a predetermined amount.
The panel also talked the competition private fleets give for-hire fleets in recruiting. Flackler says Wal-Mart pays its first-year drivers on average $76,000 a year. Two-thirds of the pay is based on mileage and the rest is based on activities. Plus their drivers get a solid benefits package, he said.
Wal-Mart's driver turnover rate is only 5 to 6 percent, he said. The catch is Wal-Mart hires very selectively: Only 350 drivers were hired out of 13,000 applications in 2012, Flackler said.