Being on the road is hard on our equipment, but apparently being at home with me is the real test. I don't usually do product endorsement, mostly because no one will pay me for it, but I really have found the indestructible bluetooth speaker. So if you have a four-year-old, or an orangutan to shop for, this is a must-have on the Christmas list.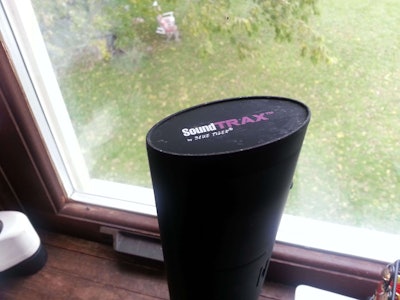 I've mentioned when we're home I spend most of my time in my office, being incredibly busy and writing reams of hilariousness. I have the best home office in the world, it overlooks our backyard, the barn and front 40 – I have an expansive, second-story view, which includes an expansive, second story window with no screen. I leave this window open most of the time, as it's the best ventilation the house has. It's situated on the courtyard side, and I don't know what kind of magic the Quakers had when they built this place, but the way the barn, house and fields are laid out seems to fit a natural air pattern across the fields. My office has the exit window for all bad air, which means I can smoke in front of it all I want, and the smelly grossness is sucked right out. Yay.
I've marveled many times, mostly during horrible storms, at the thought that went into laying out our house and outbuildings. It seems like they intentionally planted trees to break the wind and left gaps in the appropriate places to let it through. When our farm was hacked out of the rocky Ohio dirt, people had a real tie to the land and understood how it worked. Our old buildings have withstood several straight-line windstorms that leveled neighborhoods full of new construction, and I know it's because of the layout. Anyway, that's totally not what this post is about. No wonder I can't get anyone to pay me for product endorsement, I'm awful at it.
I listen to music while I'm writing. The family knows if the music is blasting, I'm creating magic on the keyboard. This doesn't keep them from asking me where their socks are while I'm making magic, it just lets them know I may scream obscenities at them for interrupting said magic. George bought me a neat little bluetooth speaker at MATS, and it sits precariously on the sill of the wind-sucking window and makes me supremely happy by blasting "Bennie and the Jets" at my face every day. Every single person who has ever walked into my office has mentioned at some point the speaker is in danger of falling out the window. To which I reply, "It hasn't yet." Until the week I had poison sumac.
That week is still a blur. I think I may have overdosed on Benadryl and sent a vaguely threatening letter to the president from my phone. I also didn't go into my office at all, for fear of transferring the incredible funk on to my favorite and irreplaceable office chair. Consequently, I never knew my beloved little speaker had been hurled out the office window by a jealous and maurauding cat, and lay in the rock garden below, taking on water from a rainstorm.
George brought it in to me when he found it and gave me the "I told you so" look. I took another Benadryl and wrapped it gently in a towel before passing out in my closet. When I woke up three days later, the little speaker had been taken apart by fairies and the battery had been submerged in a cup of rice, while the casing was still snugly wrapped in a cotton towel. I thought, "How nice," right before I ate another Benadryl and passed out in my closet again.
Before this story lingers longer than my poison sumac, let me summarize by saying this: my SoundTrax bluetooth speaker, that I got from Blue Tiger, fell fifteen feet out of my office window into a rock garden, sat there through a rain storm, was disassembled by fairies (this is possibly a lie), reassembled by George, and is sitting in the office blasting "Trouble No More" as we speak. I would highly recommend the $40 investment. Now will someone please send me a check?