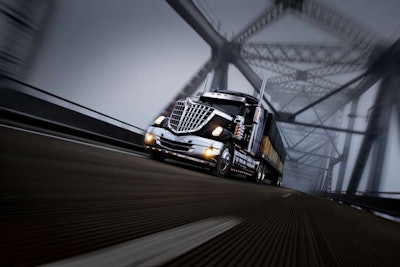 Navistar, maker of International trucks, says it has completed its transition away from exhaust gas recirculation-only engines to selective catalytic reduction exhaust aftertreatment tech as a means to comply with 2010 engine emissions standards. 
The final piece of the puzzle — the LoneStar on-highway tractor equipped with the Cummins ISX15 — is now available for order, the company announced today.
The company's transition began in December 2012 after it became apparent its proprietary MaxxForce engines would not comply with emissions standards using EGR alone. Navistar struck up a partnership with Cummins and did away with its MaxxForce 15 engine to offer Cummins' ISX15 as its 15-liter option. 
It also began using Cummins SCR aftertreatment equipment on its MaxxForce 13 liter engines. 
The on-highway International ProStar was the first to be available with the ISX15. The ProStar then in April of this year was the first to offer the MaxxForce 13 with SCR. Today, Navistar offers the PaySTar 5900 and  International 9900i with the Cummins ISX15. The PayStar, TranStar and WorkStar are available with the MaxForce 13 with SCR.