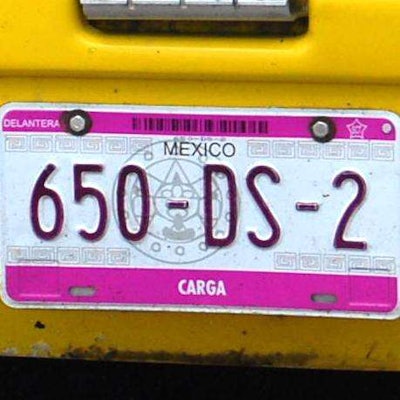 The Federal Motor Carrier Safety Administration is accepting comment on Road Machinery Co SA de CV's application for provisional authority through the cross-border pilot trucking program with Mexico.
The carrier's Pre-Authorization Safety Audit indicated it would use one driver and one truck to operate beyond the commercial border zone. The FMCSA will accept comment through Nov. 22 on its PASA, which applicants must clear, and meet additional criteria, in order to be accepted into the program.
Admission also is pending for Transmex Inc. SA de CV and Trasco to join the program's current 13 participants. Agency officials dismissed the applications of 14 other carriers and three more withdrew their applications.
Road Machinery's PASA indicated one driver was subject to controlled substance and alcohol testing while operating in the United States. The driver had undergone pre-employment testing and was enrolled in a third-party random testing pool before the audit was completed. The company was in substantial compliance with testing requirements, but in 2011 lacked the required controlled substance testing program for commercial zone operations.
The agency considered the company not testing the driver before performing a safety-sensitive function and failure to implement a random controlled chemical use testing program in the previous year a deficiency, but not grounds for failing the PASA. The FMCSA identified deficiencies in the driver's qualification files during the audit for not containing the driver's certification of violations and complete history with employers.
Subsequent to the PASA, Road Machinery provided evidence of a valid controlled substance testing program and a plan to rectify deficiencies in its drug and alcohol testing program and driver qualification records.
The agency's Nov. 12 request for comments also stated:
1) The carrier once had not ensured drivers were prevented from driving before properly distributing and securing cargo. Given it occurred only once, corrective action was not required, and while a PASA violation, it was insufficient to fail the audit.
2) Road Machinery did not report affiliations it had with other carriers in its application, but officials confirmed it did not establish or use these companies to evade regulations or to hide non-compliance issues.
3) When registered to operate solely in the border zone, the carrier passed a February 2011 safety audit, but compliance issues were noted.
4) Between October 2011 and March 2012, Road Machinery incurred a safety suspension of its certificate to operate within the commercial zone. The company was not notified and did not learn of the problem until Feb. 28. Road Machinery then submitted a written response indicating the problem was addressed and the suspension was removed.
Those interested in commenting on Road Machinery's PASA must include the notice's Federal Docket Management System No., FMCSA-2011-0097. Comments may be submitted to the Federal eRulemaking Portal at www.regulations.gov or faxed to 1-202-493-2251.