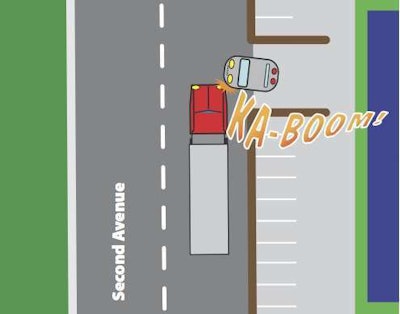 After a hearty lunch of chili, truck driver John Doe was driving the speed limit of 35 mph down a two-lane Texas road on a sunny afternoon, listening in on some entertaining Channel 19 chatter. 
Suddenly a gray-primed Mustang — piloted by a teenager — jetted out of a high-fenced apartment complex just yard in front of the tractor. 
Doe slammed his brakes as soon as he saw the sports car and tried to veer to avoid the accident, but to no avail — the Mustang's left front fender was a dented-up mess, but its driver was not hurt. 
Much to his chagrin, Doe's carrier sent him a preventable accident warning letter, which he promptly contested. The National Safety Council's Accident Review Committee made the final judgement, ruling in Doe's favor, saying there was no way for him to have anticipated the Mustang driver's wild move, nor could he have avoided the accident with such short warning. 
This was an adaptation of Overdrive sister site CCJ's "Preventable or not?" series, which appears regularly on CCJdigital.com.