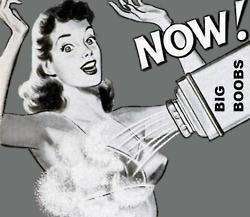 It's finally soaked in that we're actually going to get a new (to us) truck. After months of negotiations and deals falling through, I was almost thinking the new truck was going to go the way of my much anticipated and never achieved boob job.
When I was about 33, I decided I wanted a boob job. Hell, it was close to fifteen years ago, I was working in a beauty shop and it was the thing to do. I really wanted one, but could never afford the eight grand it would cost to get a good one, so I put it off – for when I was "more successful" and could afford it. Years have gone by, and I have indeed become "more successful," but I could still never afford eight grand for something so frivolous, and even if I could I wouldn't have the patience to go through the process anymore. I'm way too cranky and set in my ways to have to buy new bras – I almost got into a physical altercation with the sales clerk last time I had to be fitted for one, so I doubt very seriously I could stand having all the diagrams and measurements taken to have elective surgery. I'd end up lopsided for sure. I have purchased the exact same bra, over and over again, and if Bali ever quits making it, I'll go bra-less for the rest of my life.
(Why is this idiot talking about bras and boob jobs?)
Anyway, the point is, after haggling with something for so long, it's hard to believe it's finally real. You get accustomed to believing it's not going to happen, then you get so disgusted with the whole process, you don't care if it happens. And then when it does happen, you're ecstatic for three seconds, until you realize the implications and responsibilities involved with getting what you wanted. Momma always said, "Careful what you wish for."
And now poor George has a whole new set of boogers to keep him awake at night. I get up at three in the morning to use the bathroom and he's looking at diagrams of the motor online.
"What are you doing? It's 3 a.m."
"I need to know everything I can about this truck. It's got a lot of miles on it; it's important I know how to work on it all I can."
"Babe, Randy has taken care of that thing so well, you know it. He sends you e-mails every day about things he's upgraded or fixed or gotten ready for us. We're picking up a well-loved, well-taken-care-of truck from a super-decent person who cares about it. Come to bed."
"I'll be there in a minute. I need to look at this transmission thing."
I know him well enough to know that means, "I'll be there when the sun comes up."
And now I know why so many truckers call their trucks "The Mistress".