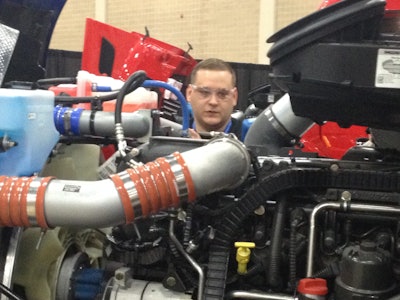 Twelve Rush Truck Center technicians advanced to the Rush Tech Rodeo heavy-duty finals Tuesday.
Leopoldo Medrano, of Pico Rivera, and Robert Henry, of Dayton, will go head-to-head on the Allison platform. Chris Zweifel, of El Paso, Jeffrey Bogatay, of Cleveland, and Sherman Brack, of Austin, will square off on a Cummins engine.
The Eaton platform will feature Bryant Brandon, of Austin, Jason Swann, of Dallas and Ronald Crofutt, of Denver. The MaxxForce competition will pit Hickory's Dylan Moser against Charlotte's Jake Gilliland. Working from the Paccar MX platform will be Brian Smith, of Austin, and Travis Roark, of Oklahoma City.
Eight medium-duty techs will also compete Tuesday. Doraville's Mark Smith and Dallas's Steven Brain will work from a Hino platform. Gary Fassett, of Twin Falls, and Lance Kilburn, of Atlanta, will be on an International unit. Chris Wiliams, from Denver, and Gavin Mathews, of Atlanta, will work from an Isuzu platform and Mark Jones, of Denver, and Trinidad Garcia, of Escondido, will work from a Peterbilt.
Winners will be announced Tuesday night.