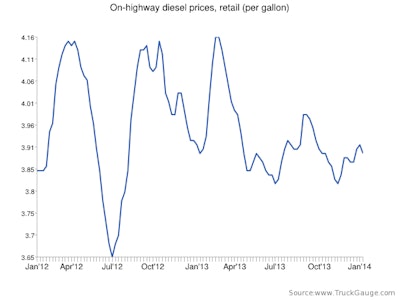 The price of diesel in the week ended Jan. 13 fell 2.4 cents from the prior week to a national average of $3.886, according to data from the Department of Energy.
That's the most the price of diesel has fallen since the week ended Nov. 11, and save for that week and the week ended Sept. 23 (which also had a 2.5-cent drop), the 2.4-cent decline is the largest since the week ended April 29, 2013.
The weekly drop also snapped a three-week string of increases.
Year over year, however, the price is nearly identical to the same week in 2013, down just eight-tenths of a cent.
Also in the most recent week, the average price dropped in all regions nationally, led by a 4.3-cent drop in the West Coast less California region, followed by a 3.8-cent drop in the West Coast region as a whole and 3.4-cent drops each in the California regoin and in the Midwest region.
However, for the first time in months, California no longer has the country's most expensive diesel, as the New England region's $4.107 price tag snapped its streak.
The Gulf Coast region still has the nation's cheapest diesel, $3.780.