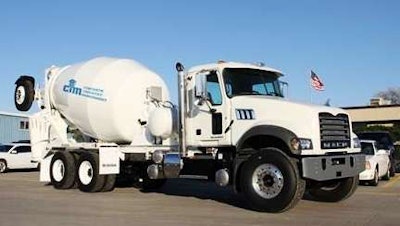 Mack Trucks donated this 2014 Mack Granite Axle Forward model to the Concrete Industry Management (CIM) Auction taking place Jan. 22 during the 2014 World of Concrete show at the Las Vegas Convention Center. CIM awards students with a four-year bachelor's degree in Concrete Industry Management.
Mounted with a McNeilus 11 cubic-yard concrete transit mixer, the Granite model is being auctioned to benefit CIM programs at Arizona State University, California State University – Chico, Middle Tennessee State University, New Jersey Institute of Technology and Texas State University.
Equipped with a Mack MP7 engine offering 365 hp and 1,340 lb.-ft. of torque, the Granite model delivers exceptional fuel efficiency without sacrificing power and performance. Also featuring the Mack Cornerstone chassis, the Granite has the strength needed to handle the most demanding of jobs. Mack has donated a truck for the CIM Auction for several years, most recently in 2013.