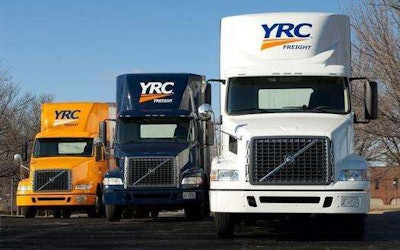 After rejecting a deal earlier this month, the Teamsters who work for one of the nation's carriers, YRC Worldwide, have agreed to a tentative employment deal, the union announced this weekend, but it says it will hold YRC's "feet to the fire" moving forward.
YRC, No. 3 in OD sister site CCJ's Top 250 carriers list, approved the deal by about a 2 to 1 measure, with about 19,000 voters.
The plan will help protect YRC, who's been struggling, partly due to its a large amount of debt, to hold its head above water in recent years.
If the Teamsters hadn't approved the deal, the company said it would have had to file for bankruptcy.
The deal extends the labor group's labor contract with YRC through 2019 and maintains the pay and pension concessions accepted in 2009, when the two agreed to a deal designed to help YRC shore up its debt and other financial woes. YRC has about $1 billion in debt.
Tyson Johnson, director of the Teamsters National Freight Division, said the deal was much better than the YRC proposal rejected by Union members Jan. 9. "Once again, our members' sacrifices are providing the lifeline for the company," he said.
Teamsters president and co-chair Jim Hoffa said the vote was difficult for the members, "but in the end they did what they believe will give this company the best chance to stay in business and protect their jobs."
"Now, we will hold management's feet to the fire to make sure our members' jobs are protected and redouble our efforts to make sure this company handles its finances responsibly," Hoffa said.
James Welch, YRC's CEO, said the agreement was the "only remaining path forward."