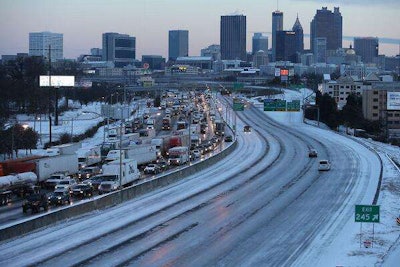 Police help deliver baby born during Atlanta-area snow traffic jam https://t.co/R0UoNolMgY #atlsnow pic.twitter.com/2KcOlP1e6F

— David Nelson (@DavidNelsonNews) January 29, 2014
Major arteries in the South — I-285, I-85, I-75 and I-20 in Atlanta and I-65, I-20/59 and I-459 in Birmingham — at times in the last 24 hours have looked like parking lots, rather than open highways, and thousands were left stranded on the road over night in both cities.
The conditions have carried over into Wednesday, too, as parts of I-75, I-85, I-285 and I-20 in Atlanta remain stopped or closed due to road conditions or accidents and parts of I-65 and I-20/59 in Birmingham are entering their second day of full standstill, due to road conditions, crashes and closures.
National Guard troops in both states have been dispatched, and authorities in both Atlanta and Birmingham are asking cars and trucks to stay off the roads.
Below are a few photos of the weather gathered from Twitter and from local news sources. If you're there or if anyone has sent you pictures of their experience, let us see them — Click here to upload them.
Click here read see a list of road closures from WSB in Atlanta, which include chunks of the city's major interstates.
Click here to see a list of road closures from WVTM in Birmingham, which include a nearly 30-mile stretch of I-65.
Gridlock Day 2: "A horrible, horrible, horrible situation for people who are stuck out there'. https://t.co/VxtHY6PX36 pic.twitter.com/p3uSkhaZMB

— AJC (@ajc) January 29, 2014
NOW: Check out traffic situation in Atlanta from sister station @wsbtv Highways complete gridlock w/ jacknifed trucks pic.twitter.com/Fntj7kyc9S

— WSOC TV (@WSOC_TV) January 29, 2014
Still watching traffic nightmare in #ATL! LIVE cam: https://t.co/YKJEF9zKuE Pics: https://t.co/ytiBrcl1Mg pic.twitter.com/KgNwhYHLD7

— NBC Charlotte (@wcnc) January 29, 2014
I-65 South at Oxmoor Road at 7:50 AM. Zero movement. pic.twitter.com/I5wzihUAUc

— Ryan Brown (@RyanBrownWJOX) January 29, 2014
#alwx pic of traffic at I-65 South near Lakeshore Drive exit shortly before 3 a.m. Wednesday: https://t.co/ZH6I259z8n pic.twitter.com/Dco9iM20y0

— ABC 33/40 News (@abc3340) January 29, 2014
Here's what it looks like where my wife has been stuck on I-20 since yesterday afternoon @spann pic.twitter.com/bVtmJ9uUaQ

— Scott Forester (@scott4ester) January 29, 2014
.@CNN Atlanta's Tez Valenzuela posted this pic. saying she was stranded for 12 hrs. Share your photos #CNNWeather pic.twitter.com/VJ1QNUIZPv

— New Day (@NewDay) January 29, 2014