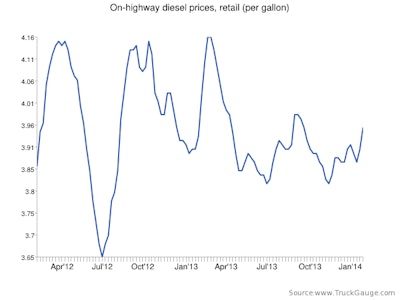 The national average diesel price in the week ended Feb. 3 spiked 4.7 cents to $3.951, the largest week to week increase since Sept. 2 and the second largest in nearly a year, when the price rose 5.3 cents in the week ended Feb. 18.
Colder than average temperatures and heating oil shortages therein are at least partly to blame for the price hike.
However, despite the price jump, the price of diesel is still 7.1 cents lower than the same week last year, when diesel was in the middle of a large multi-week pattern of price increases.
Average pricers also rose in all regions in the U.S., except for the Rocky Mountain region, which had a three-tenths of a cent drop.
The East Coast, particularly the New England and Central Atlantic regions — some of the hardest hit areas of the recent cold snaps — had double-digit price increases, rising 13.4 cents and 13.7 cents, respectively, as the East Coast as a whole jumped 7.4 cents.
The Gulf Coast and the California regions had the smallest region decreases, falling three-tenths of a cent and four-tenths of a cent, respectively.
The New England region again had the country's most expensive diesel, $4.305, followed by the Central Atlantic, $4.281, while the Gulf Coast still has the nation's cheapest, $3.775.