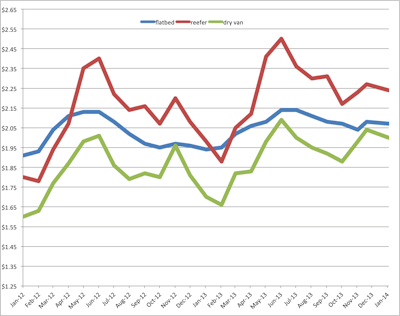 Per-mile spot market rates in all three segments — flatbed, reefer and dry van — fell in the first month of the year from December's rates, according to data released this week by Internet Truckstop.
The drops were small, however, and rates in all three segments were up a good bit from January 2013's rates, led by a 30-cent year-over-year increase for van rates and followed by a 26-cent increase in reefer rates and a 13-cent increase for flatbed.
Flatbed rates, the least volatile of the three segments, dropped a penny to $2.07 in the January. Flatbed rates have been between $2.02 and $2.14 since March of 2013 and have been between $1.91 and $2.14 since March 2011.
Reefer rates fell 3 cents in the month, down to $2.24 — still a strong number, especially relative to recent years, as it bests rates in all months in 2012 except two.
Dry van rates led the decreases with a 4-cent drop, down to $2 even. Van rates, however, have only topped the $2 mark five times since Internet Truckstop began keeping records, and all five came since June 2012.
In 2011, 2012 and 2013, rates were mostly flat from January to February, but began big spikes heading into the spring and summer.
Also, economists and industry researchers have been predicting rate increases due to a restriction on productivity by federal regulations that will, combined with an uptick in freight, cause a tightening of the industry's capacity and a subsequent rate boost.