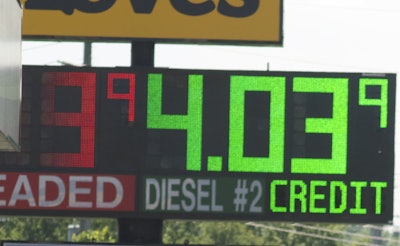 The average U.S. household would save about $250 a year if medium- and heavy-duty trucks in the U.S. cut their fuel consumption by 50 percent, according to a report released this week by the Consumer Federation of America.
That would equal about $29.5 billion in savings nationwide, per the report, which says that American households pay about $1,100 a year due to truck fuel costs, a number that's expected to rise unless the U.S. implements new fuel economy standards for trucks, the report says.
And as fuel prices rise, the report says, the annual per-household savings could rise to as much as $400 by 2035 with that same 50 percent reduction.
The report, dubbed "Paying the Freight: The Consumer Benefits of Increasing the Fuel Economy of Medium and Heavy-Duty Trucks", states the obvious as far as fuel prices and the price of goods, saying reducing fuel costs will also reduce the cost of what consumers pay.
Lowering the price of goods by lowering transportation costs could also act as an overall stimulant to the U.S. economy, the report notes, freeing up disposable income for households.
Reducing fuel consumption, obviously, is in the interest of truck owners, too, the report notes: "One of the reasons we believe a strong fuel efficiency standard for heavy-duty trucks will be implemented is because key components of the trucking industry are also seeking ways to reduce the enormous impact of fuel expenditures on their costs," said Jack Gillis, director of public affairs for the Consumer Federation.
Lastly, the CFA report says there are two key "social benefits" to reducing fuel consumption of heavy-duty trucks: Reducing pollution and greenhouse gas emissions and cutting the country's dependence on foreign oil, which would be a boost to national security.