Having the opportunity to travel around the United States with my best friend in the whole wide world is really more than I deserve. The fact that it's our job is more than I can comprehend most of the time. The added bonus of being able to tell people about it in a public forum blows my mind. For the first time in two years, I was recognized in a truck stop from my Overdrive work. I'm not going to say it wasn't creepy, because it was. Also, the person was more concerned with me telling Todd how much he loved him than he was with recognizing me. Which is OK, because I appreciate Todd a lot, too. So Todd, they love you out here. Just in case you didn't know already. Don't get a big head, bro.
So as we're riding along and I'm staring out the window instead of working like I should, I see signs for a lot of places I want to stop. George is really good about stopping when we've got time, I think mostly he just gets sick of hearing me whine, so he tries to appease me as much as he can.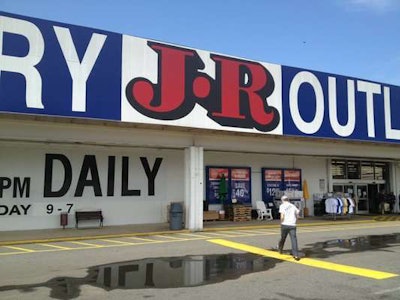 Traveling up 77 through North Carolina, there are approximately nine thousand signs advertising J&R Warehouse and the fact they sell everything from cigars to cowboy boots, and we all know I have a weird thing about boots, so I was mesmerized and developed an insatiable need to go to J&R in Statesville. I pulled it up on my phone — it looked like the parking lot was huge, so I assumed they'd let trucks park, since their signs are on the highway and the volume of their target audience on the highway is likely to be in a commercial vehicle.
Well, not only are the lanes teeny and turns tight as hell to get there, but when we did there were "No Truck Parking" signs all over. I knew George was pissed, because he was very quiet and concentrating on getting turned around and TFO of there. When he finally spoke, the vein in his head pulsed with each word to punctuate it. I was terrified he was going to pass out.
"I (boom) thought (boom) you said (boom) they had (boom) truck parking (boom boom)."
"It looked like they had truck parking. Did you see how huge that parking lot was?"
"When you say they have truck parking, it means you talked to someone and they told you there was truck parking." (Too many booms to count.)
"I know, I'm sorry. I won't assume anything like that again. Please don't die."
He didn't die, but he did give me a stern lecture on how easy it is to eff up a CSA score doing dumb things like assuming there's truck parking and adequate lanes without curbs and things you can break. I felt like a total asshole and was really quiet the rest of the day to show how sorry I was.
We all know that's a filthy lie, but if I had any self control I totally would have. Sorry babe.