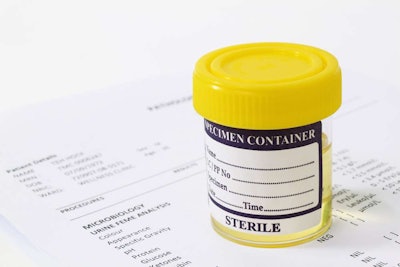 A proposed rule establishing a database of CDL holders who have failed or refused to take a drug test will soon be published, the Federal Motor Carrier Safety Administration announced Feb. 12.
The Commercial Driver's License Drug and Alcohol Clearinghouse, as it's known, will implement the database and require carriers to upload positive drug test results to FMCSA and require them to query the database when hiring drivers.
A DOT report from earlier in the week said a Notice of Proposed Rulemaking will be published Friday, Feb. 14. The rule cleared the White House's Office of Management and Budget Jan. 28, clearing the way for its publication.
The rule is required by the current MAP-21 highway funding act. An implementation date for the rule has not been made public yet.
In addition to reporting to FMCA failed and refused drug and alcohol test results, carriers would be required to query the database on an annual basis for current driver employees and report traffic citations for drivers cited for driving under the influence of drugs or alcohol.
Owner-operators, who are required by law to participate in random drug testing via a consortium, must report to FMCSA the consortium or third-party drug test administrator it uses and authorize it to submit information on any of its drivers, including themselves, to the database.
"We are leveraging technology to create a one-stop verification point to help companies hire drug and alcohol-free drivers," said FMCSA Administrator Anne Ferro. "This proposal moves us further down the road toward improving safety for truck and bus companies, commercial drivers and the motoring public everywhere."
Carriers would be required to obtain written consent from drivers before querying the clearinghouse and before accessing information within. If a driver refuses to give written consent, he or she would not be permitted to drive.
Drivers will be allowed to appeal results by requesting administrative review by submitting a written request and a written explanation of why he or she thinks the clearinghouse has erred. FMCSA would then make a decision within 60 days.
If a driver successfully completes the return-to-duty process after failing a drug test, positive results will remain accessible for either three or five years, per FMCSA's proposed rule.
If a driver does not complete the return-to-duty process, the information will remain in the clearinghouse indefinitely.
If in a situation that a DUI arrest does not lead to a conviction, FMCSA would be required to remove a driver's information from the database within two business days.
FMCSA says it hopes to have two levels of queries — full queries and limited queries. Full queries would allow carriers to access to see reportable information in a driver's record and would require written consent from a driver.
The limited query would not allow carriers access to specific reportable information, but would only allow whether there is information in the database about a driver.
The limited query would be primarily used for the annual current employee screenings, FMCSA says, while the full query would be for pre-employment queries.
FMCSA will be required to report information back to a carrier within seven days of a query.
Carriers will be required to submit their DOT numbers and the name of the person or persons they authorize to access the clearinghouse, and that information would be updated annually, per the rule.
FMCSA says the rule will result in a$187 million in annual societal benefits, but it will also cost the industry about $186 million annually, it says. Carriers will spend $28 million annually to perform the required annual query and $10 million in pre-employment queries, FMCSA estimates, but the bulk of the costs comes in an estimated $101 million in drivers going through the return-to-duty process.
The agency will accepting public comment on the proposed rule 60 days from its publication in the Federal Register.
Public comments can be made via the Federal eRulemaking Portal at regulations.gov; via fax, 202-493-2251; by mail, Docket Management Facility, U.S. Department of Transportation, West Building Ground Floor, Room W12-140, 1200 New Jersey Ave. SE, Washington, D.C., 20590; or hand delivered to the same address. All public comments must use the docket number FMCSA-2010-0031.
The Owner-Operator Independent Drivers Association has said it opposes the rule.