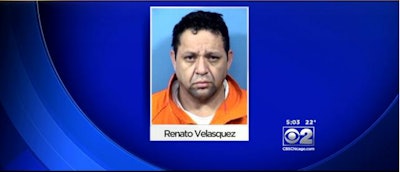 The Federal Motor Carrier Safety Administration announced Feb. 13 it had issued an imminent hazard out-of-service order to an Illinois-based driver for hours of service violations that led to a crash that killed one person and caused life-threatening injuries to an Illinois state trooper, FMCSA said.
Renato V. Velasquez crashed Jan. 27 into two fully illuminated stationary vehicles — one an Illinois state trooper with his emergency lights on and the other an Illinois Tollway vehicle with an activated warning arrow. The Tollway worker was killed in the crash.
FMCSA investigators discovered after the crash that Velasquez had been mostly driving for a period of 26 straight hours and had only rested for a period between 3 and a half to 5 and a half hours. He also had falsified his logs to conceal the violations, FMCSA said.
He has been charged with multiple felonies, and the investigation remains open.
Other news outlets, like the Chicago Sun-Times, are reporting that Velasquez had worked more than 35 straight hours before the crash.