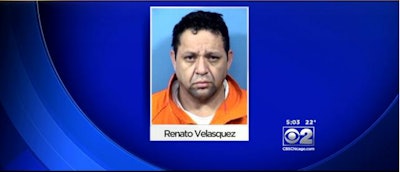 Illinois-based carrier DND International has been ordered to shut down by the Federal Motor Carrier Safety Administration after the agency said its investigators found "widespread, serious violations" of hours of service regulations and with falsifying logs.
The agency's investigation into the carrier was spurred by a fatal crash allegedly caused by one of its drivers in February, when Renato V. Velasquez crashed into two fully illuminated stationary vehicles, killing an Illinois Tollway worker and injuring a state trooper.
Velasquez was, according to an FMCSA investigation, on duty for 26 hours straight, with just three and a half to five and a half hours of break time. Local news outlets, however, reported Velasquez was on duty for 35 hours, driving 1,000 miles in that time.
The agency issued a shut down order to Velasquez in February and was charged with multiple felonies. FMCSA says Velasquez also had been falsifying his logs.
FMCSA began investigating his carrier, DND, following the accident. The agency says it compared toll transaction data with logs of seven of the carrier's drivers, and all seven had falsified their logs.
FMCSA says its investigation showed "an unmistakable, dangerous pattern of serious falsifications that substantially increase the likelihood of serious injury or death to [the carrier's] drivers and the motoring public."
DND is the ninth carrier shut down by the agency this year. FMCSA has also shut down four drivers.
"The constant focus of every driver, particularly operators of very large commercial vehicles, must be on safety," said FMCSA Administrator Anne Ferro. "Companies and commercial drivers that knowingly jeopardize public safety by disregarding common-sense regulations that prevent driver fatigue will not be tolerated and will be banned from continuing their dangerous and illegal behavior."