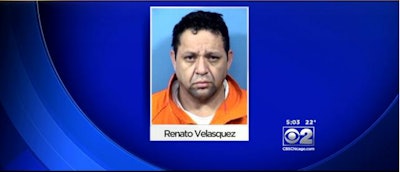 A Department of Transportation judge has tossed out a shutdown order issued by the Federal Motor Carrier Safety Administration, allowing the Illinois-based DND International to resume its operations.
DND is the carrier of the driver who allegedly was on duty between 26 and 35 hours straight before crashing into two stationary vehicles that were fully illuminated on Jan. 27, killing an Illinois tollway worker and injuring a state trooper.
Driver Renato Velasquez — who has been charged with felonies in the case — was ordered to shut down by the agency in February, and DND subsequently was issued a shutdown order in April, after the agency said an investigation into the carrier revealed a pattern of not monitoring logbook compliance of its drivers.
Administrative Law Judge Richard C. Goodwin, however, ruled that the violations found by the agency did not pose an imminent hazard to safety, as defined by federal regulations, and the agency's claims against the company are unsupported by evidence and testimony offered in the case.
Goodwin also ruled that imminent hazard out-of-service orders should be "utilized only when the immediate discontinuation of an entire business is necessary to prevent serious injury or death."
As an example of unsupported FMCSA claims, the agency sampled logbooks from seven of the company's drivers in its investigation, finding evidence that they falsified logs. FMCSA then extrapolated information about the carrier's others 42 drivers based on those seven.
There's no testimony or evidence that the agency's methods in the investigation are "acceptable, reliable and/or accurate," Goodwin's ruling says.
He also ruled that there's no evidence or testimony that says any action or inaction by DND — like not setting up a system to ensure hours of service compliance — contributed to Velasquez' crash.
There's also no evidence that DND's actions put the public at risk, Goodwin ruled.
Imminent hazard out-of-service orders "should not be used to ensure regulatory compliance in lieu of other less severe enforcement actions. An IHOOS Order is appropriate only when a carrier falls to a level below full compliance which substantially increases the likelihood of severe injury or death if not immediately discontinued," Goodwin writes.
The DND case recently prompted a U.S. senator to call for an audit of FMCSA's investigative practices, saying the carrier was flagged for intervention in October, yet the agency only investigated it after the fatal crash in January.