The National Transportation Safety Board met Tuesday, Feb. 9, to determine a 2014 crash's probable cause in order to finalize a report on and issue recommendations from the incident, which involved two tractor-trailers and resulted in the death of an Illinois State Toll Highway Authority truck driver.
NTSB investigators presented their findings to the full Board, determining that trucker fatigue and logbook falsification contributed to the crash, as well as "inadequacy of Federal Motor Carrier Safety Administration efforts to address the safety deficiencies of high-risk carriers or prioritize action to halt their operations."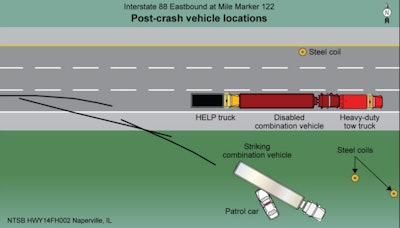 Reports at the time of the crash revealed that the truck operator in the case, Renato Velasquez, had been awake for about 35 hours prior to the crash and had driven over 1,000 miles in that time. He was also carrying falsified logs, FMCSA reported at the time.
Both carriers were considered high-risk by the FMCSA at the time of the crash yet continued to operate despite FMCSA being aware of their noncompliance through Safety Measurement System data and compliance review results, NTSB says.
In 2013, the NTSB recommended the FMCSA be audited on its oversight capabilities of motor carriers and trucking companies, citing several major crashes in which carriers had previously been identified as at risk, yet saw no intervention by FMCSA.
NTSB investigators noted in their findings Tuesday that the recently-published electronic logging device rule and the proposed Safety Fitness Determination rulemaking would make it easier for FMCSA to regulate high-risk carriers.
NTSB will issue its final report based on Tuesday's findings, along with recommendations as to how to prevent such a crash to regulators and the trucking industry.