Peterbilt Motors Company named Jackson Group Peterbilt in Salt Lake City its 2013 North American Dealer of the Year for its high levels of customer satisfaction and exceptional growth in heavy- and medium-duty truck sales, financing, leasing and parts sales. The dealership's outstanding performance is even more impressive, the company said, as it moved into a brand new facility, one of the largest truck dealerships in North America.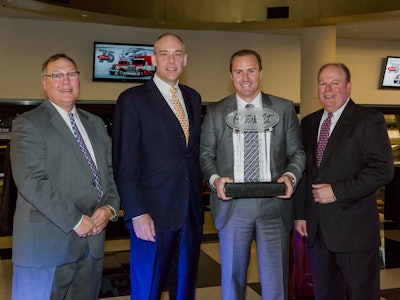 Dealer Principal Blake Jackson (pictured, holding trophy) accepted the award during the annual Peterbilt Dealer Meeting held in Fort Worth, Texas, near Peterbilt's headquarters and manufacturing facility in Denton. The business meeting celebrated both dealer performance and Peterbilt's 75th anniversary.
Peterbilt also honored Baltimore's Peterbilt Store location as best Paccar MX-13 engine dealer and Hunter Peterbilt of Lancaster, Pa., as the TRP Parts dealer of the year.
Wisconsin Kenworth was honored with the prestigious 2013 Kenworth Dealer of the Year award for the United States and Canada at the Kenworth Dealer Meeting, held recently in the Seattle area. The award is presented annually to the dealer achieving the highest standards for customer satisfaction and business operations.
In the past six years, Wisconsin Kenworth has earned three Kenworth Gold Awards and three Silver Awards. Wisconsin Kenworth is a division of CSM Companies, which operates nine Kenworth locations in Wisconsin and Michigan.