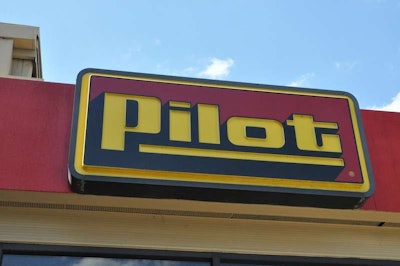 A judicial panel will hear argument Thursday, March 27, on a request by Pilot Flying J to consolidate seven of the remaining 17 lawsuits against the fuel provider and truck stop chain and transfer them to a federal court in East Tennessee, where Pilot is headquartered. The lawsuits stem from federal allegations that Pilot defrauded trucking companies out of owed fuel rebates.
Pilot filed a motion Dec. 13 with a judicial panel on multidistrict litigation, saying in a related court doc that the consolidation of the cases "is appropriate and necessary to avoid duplicative proceedings, a waste of judicial resources and the risk of inconsistent adjudications."
The hearing will take place in front of a U.S. Judicial Panel on Multidistrict Litigation in San Diego and will hear oral and written arguments.
Pilot in July of last year agreed to an $85 million class-action settlement with the roughly 5,500 trucking companies affected by Pilot's alleged rebate withholding. Members of the class, however, could opt out to pursue their own legal action against the company.
The settlement was given final court approval in November, and it stipulates that Pilot pay all each of the affected companies the money it's owed in fuel rebates along with 6 percent interest and court costs and attorney's fees. Pilot said in January that by Dec. 31, 95 percent of the companies owed money had been paid.
The company says the lawsuits it wants to consolidate are all based on the affidavit unsealed April 18, 2013, and all make similar claims: fraud, breach of contract, violations of deceptive trade laws, violations of the Racketeer Influenced and Corruption Organizations Act, conversion, fraudulent concealment and unjust enrichment.
Moreover, the U.S. Court in the Eastern District of Tennessee "sits at the nexus" of the investigation into Pilot, and it is the location of most of the witnesses, the evidence and the documents in the cases. The plaintiffs in the lawsuits are in Alabama, Illinois, New Jersey, New Mexico and Ohio, therefore making no district "most convenient" for the plaintiffs, Pilot argues.
So far, 10 Pilot employees have pleaded guilty to various charges of fraud and conspiracy in plea bargains.
Click here to see all of Overdrive's coverage of the allegations against Pilot Flying J.