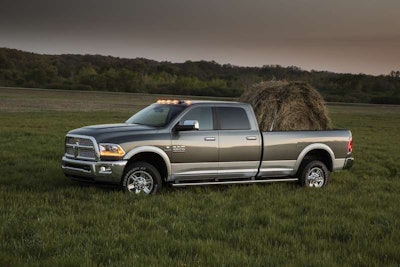 One Owner-Operator of the Year finalist will win a 2013 Ram 2500 (similar to the pictured model) next month in the annual contest produced by the Truckload Carriers Association and Overdrive. The three finalists and the Company Driver of the Year finalists will attend TCA's annual meeting March 23-26 near Dallas, where the winners will be announced.
The Company Driver winner also will win a 2013 Ram 2500. Profiles of the Company Driver finalists will be posted next week.
In addition to the Cummins-powered trucks, the winners will receive a year's supply of Chevron Delo oil. Delo and Cummins are sponsors of the contests.
Both winners will be featured in more depth on Overdrive.
Thomas Miller
Thomas Miller of Bunker Hill, Ill., hauls general commodities and refrigerated food items nationwide for Springfield, Mo.-based Prime Inc. In his 17½ years as a driver, Miller has clocked 2.3 million accident-free miles.
"I've always thought of myself as a safe driver," Miller says. "At this point in my career, I'm probably the safest I've ever been."
Miller, 43, is a second-generation driver "like so many others," he says. His father drove for more than 35 years, and while Miller never set his sights on following in those footsteps, that's where his life took him in the mid-'90s.
In 1999, after a few years as a company driver, Miller and his father-in-law, then a Prime owner-operator, compared pay stubs and miles. Miller saw a clear difference.
"He was a big influence on me stepping into the world of being an independent contractor," Miller says.
As a captain for the American Trucking Associations' America's Road Team, Miller is among other drivers who speak on behalf of the industry's image and safety. Part of his own safety habits is making sure to keep his 2014 Kenworth T680 running efficiently and safely.
"Nothing can substitute a good pre-trip inspection every day," he says. "That's the way I start my day every day." As his dad always told him, "A clean truck is a happy truck."
Miller's primary focus is on his wife and two daughters. Even if he's just passing through home, he does what he can to spend time with them.
"I look back on all the awards, hoping that someday my girls might see them on the shelf and be proud of what I've done and say 'Look what he did. He made a difference,' " Miller says.
Bryan Smith
Bryan Smith, 44, traces his love for trucking to his childhood. A friend's dad was a truck driver, and trucking became his career of choice.
After serving in the U.S. Marine Corps, Smith went to truck driving school in 1991 and a few years later became an owner-operator for Dubuque, Iowa-based Art Pape Transfer, hauling John Deere tractors, steel and lumber on flatbeds and dropdecks.
"I always wanted to have my own truck," Smith says. "There's a little more freedom and chances to make more money if you do it right."
Now with 20 years of driving experience, Smith has 2.5 million safe miles and many awards to show for it.
"One thing that has kept me safe, besides God just having mercy on me because it can happen to anyone, is I maintain good following distance," he says.
In addition to driving safely, Smith keeps his truck in good shape to help prevent any equipment malfunctions. If he knows a part lasts only so long, he may be inclined to change it before it fails.
"The last three trucks I had, I bought them new and traded them off around 700,000 miles, five or six years old, before I had to do anything major to the truck," Smith says.
Smith also keeps himself fit. "I decided a long time ago that I did not want to get out of shape," he says. "I have some exercise equipment that I use in the truck."
Smith stays as busy at home as he does on the road. He has a wife and three kids ages 8, 10 and 14, and is worship leader at his church. He also studies martial arts and has taught self-defense classes.
Terrance Smith
Terrance Smith of Miramichi, New Brunswick, Canada, is a self-described maintenance fanatic. Smith believes that to be a successful safe driver, the truck has to be in top shape at all times.
"You learn real early that you have to do maintenance," he says. "I change my oil every 15,000 miles, and I have the truck greased and checked over every 7,500. It's a personal thing. It costs a little more money, but I try to keep on top of things."
He's learned that when you have only one truck, "you can't stretch things out. It'll come back to bite you."
Smith, who turns 63 this year, drives reefer in Canada and the United States for Kingston, Ontario's SLH Transport. Over his 42-year career, he has racked up 4.75 million lifetime accident-free miles.
For his first 10 years in trucking, he was a company driver. Smith became an owner-operator 33 years ago when he bought a used Freightliner with the help of his father-in-law. He kept that used truck only about a year and has bought new trucks ever since.
"I like the freedom" that comes with being an owner-operator, Smith says. He sometimes gets to choose his loads , and SLH allows some other flexibility that he enjoys. "I decide when I leave, where I stop, where I sleep, what I eat, how much exercise."
His wife, Roxanne, helps with the books and gives him directions over the phone when he can't find a destination.
To maintain his safe record, Smith keeps top-notch equipment, never follows too closely and doesn't drive tired. His truck is governed at 65 miles an hour.
"I give all cars on the highway all the respect I can give them," he says. "It's worked for me, and I continue to do it every day."